Do you know what your rights are as a beauty professional? The terminology can be confusing. Are you classified as an employee or are you considered self-employed, and what's the difference between them? Where do booth renters fit into all this?
This article defines the common roles and classifications found in the beauty industry and outlines common abuses all professionals need to be aware of. Know what your rights are in your workplace.
---
Audio Version
Want to listen to this article instead of reading it? No problem.
---
In a salon, you are either self-employed or an employee. You can not be "half" anything.
Employees are on the salon's payroll and are usually paid hourly, commission, or some combination of both.
Employees
Employees come in two varieties: exempt and non-exempt.
Unless they're salaried in compliance with the FLSA (or state/city legislation), employees are considered non-exempt, which means they're entitled to the prevailing minimum wage and overtime wages.
Salaried workers are considered exempt from the prevailing minimum wage laws and overtime laws, but they're still typically protected by the other provisions of the Fair Labor Standards Act.
Are salon employees required to be paid minimum wage and overtime?
Regardless of the compensation method (commission or hourly), employers must generally ensure to pay their non-exempt (non-salaried) employees at least the prevailing minimum wage, whether the employee is working on a client or not.
Who pays the taxes? What tax form does a salon employee receive?
Each paycheck, employers are required to withhold the employee's half of their employment taxes. The employer matches the employee's contribution by remitting the other half. That equal tax contribution is the price employers pay for full control over the employee.
Employees receive a W-2 at the end of the tax year.
What benefits do salon employees receive?
Employees are generally covered by worker's compensation, unemployment insurance, and the salon's professional liability insurance policy. They are also entitled to numerous protections offered by state and federal agencies like the Equal Employment Opportunity Commission, Internal Revenue Service, and Department of Labor. Salon owners are not obligated to provide any benefits beyond those mandated by law.
Do salon owners need to track employee hours?
Yes. Time tracking is a mandatory federal requirement, so salon employees need to be clocking-in and clocking-out daily.
Is a salon professional an at-will employee?
All U.S. states consider employment at-will, which means employees can quit at any time. They can also be fired at any time for virtually any reason, so long as it the termination isn't discriminatory or retaliatory.
What is an employee's role?
Employees are required to follow their employer's directives. This means employees must:
work the employer's schedule,

adhere to salon policies and dress codes,

use whatever products the salon requires them to use and perform services in accordance with the salon's protocols.
Employees are also required to participate in promotional events (discounts, coupons, etc.), continuing education, and mandatory meetings.
Does the salon owner have to pay salon employees for mandatory meetings, training, and promotional events?
Yes. Any time the employer requires an employee to be present, that time is compensable and the employee must be paid.
Do salon professionals compensated by commission have to do work they're not getting paid to do, like cleaning, answering phones, and doing laundry?
If you are being paid commission versus or commission plus hourly, your employer is FLSA-compliant. You are being legally and properly compensated for your time spent performing chores and other duties, since your employer is ensuring your wages meet or exceed the prevailing minimum wage.
If you are working for a salon owner who is not FLSA-compliant, then you have no obligation to obey the so-called employer, since you are not being legally compensated.
Can the salon owner require employees to stay in the salon when they have no clients booked?
If you're a W-2 employee and the salon owner is FLSA-compliant, you are obligated to obey your employer or forfeit your position.
If you are not a properly classified employee and the salon owner is not FLSA-compliant, you have no obligation to obey.
Does the salon owner have to provide supplies and products to their employees? Is it legal for the salon owner to deduct fees from my paycheck?
The employer provides all supplies and products. Employers, in most states, are not permitted to arbitrarily deduct money from the employee's wages to cover cost of doing business expenses, like product.
Who collects the money?
An employee's clients pay at a centralized location, usually at a reception desk. Aside from tips, employees are never paid directly by customers.
Who controls the client contact information and the appointment book?
The employer is legally entitled to control and retain the salon's client contact data and may prohibit employees from taking that data or using it to harm the business.
Self-Employed Professionals
What does it mean to be "self-employed" in the beauty industry?
If you are self-employed, you are a business owner.
Self-employed professionals run their own businesses and are completely independent from the rest of the facility in which they work. Booth, suite, and studio renters are commercial tenants who lease space. Freelancers often perform session work or special events for a wide variety of companies. Many professionals who freelance are also renters or salon owners.
Self-employed professionals are entirely responsible for acquiring new customers, providing their own supplies, managing their clients, securing their own benefits, and paying their own taxes.
What is the role of a self-employed beauty professional?
Self-employed professionals keep 100% of their revenue, pay for their own product and supplies, set their own prices, and work on their own schedule at their own convenience. They answer to nobody. To clarify, this means that self-employed professionals:
choose which products they are going to use and sell

perform their services however they please, and

have their own salon management software.
Who collects the money?
Clients pay renters (and most other self-employed professionals) directly.
Under no circumstance should a client of a self-employed beauty professional be paying a salon landlord, nor should the self-employed professional be receiving a paycheck from their landlord.
Who controls the client data?
Self-employed professionals are solely responsible for booking their own customers and maintaining their client data. Nobody else is entitled to that information, nor can anyone require them to turn that data over (for instance, as a condition of their rental agreement).
Can a renter or self-employed professional be fired?
Renters cannot be fired. They must be properly evicted in accordance with the lease agreement or the state's commercial landlord/tenant laws.
To a renter, a salon owner is nothing more than a landlord.
It's important for salon landlords to understand that they cannot:
dictate a booth renter's schedule,

force the booth renter to have their clients pay for their services at a centralized location (like a reception desk),

tell a booth renter what products to use, how to perform a service, or what to charge for their services,

force a booth renter to participate in a promotion or coupon unless agreed upon in writing.

"fire" a booth renter,

force a booth renter to adhere to a dress code or other salon guidelines or rules, or

require the booth renter to use the salon's branding or promote the salon's name in any of their marketing materials.
Do freelancers and renters get benefits?
Self-employed professionals must secure their own benefits. In addition to being ineligible for benefits, self-employed professionals are also not provided any state or federal protections from agencies like the Department of Labor or the Equal Employment Opportunity Commission.
What are renters entitled to?
Renters are only entitled to whatever their written lease agreement guarantees them. Renters are not entitled to free rent for vacation time, free backbar, or anything other than the space they're paying for. Additionally, salon landlords are not required to provide renters with a clientele.
Are booth, suite, and studio renters required to have a key to the building?
The IRS no longer makes key-holding mandatory. As long as the renters have access to the building during the operating hours stated in their lease, they are not required to have keys. (And yes, renters and salon landlords, both of you need written leases.)
Who pays the taxes?
Self-employed professionals, in exchange for the freedom to operate their businesses without interference or control, pay the entirety of their self-employment tax.
Can a salon landlord prohibit a renter from selling retail?
If the landlord has a retail store in the salon, they can put a clause in their leases preventing tenants from competing with the retail store. Salon landlords cannot require tenants to retail their products, however. For a lot of landlords, retail boutiques help keep the business profitable (and keep tenant rent competitive).
Independent Contractors
Independent contractors are not employees. They are self-employed, just like renters and freelancers. Most independent contractors are illegally misclassified in this business.
Independent contractors almost never belong in the salon.
Independent contractors do not go to work every day, all day long, at the request of the salon owner. Much like a renter, independent contractors operate independently, free of control from the business owner. The salon is typically not their only place of employment, they are not leasing space, and they are not on the payroll.
Independent contractors are contracted, responsible for all of their own taxes, and do not answer to a salon owner except to ensure the contract terms have been fulfilled.
Independent contractors must be provided with a 1099 form at the end of the year by any person who has contracted them and paid them more than $600 in that year. That person may be the owner of another business (for instance, a corporate office that contracts a massage therapist to perform chair massages for special occasions or a photographer who routinely contracts an MUA for shoots) or a private customer.
Can an independent contractor (freelancer) be fired?
Independent contractors are not employees and therefore cannot be fired or controlled through the threat of dismissal, but they can be dismissed from a job site if they break the terms of their work agreement.
Freelancers sign work agreements, agreeing to perform a one-time job.
In our industry, freelancers are exclusively found on-set (fashion shows, photo shoots, film projects) or at special events (corporate parties, bridal showers, etc.).
I have written about this topic to death. If you remain subscribed to this blog, you're going to be so informed about the abuse of the independent contractor status that tax attorneys will be awed by your knowledge, so for now, I'm going to tell you the four most important things you need to know:
1.
Salon owners often use the independent contractor classification to evade employment taxes.
When exploitative owners classify professionals as independent contractors, they're shoving the entire employment tax burden onto the professional, who will end up paying at least 15.3% of their income to the IRS at the end of the year. A good deal of these salon owners aren't aware that this practice is illegal, but the IRS and DOL don't care. Business owners are expected to do their own homework and make informed business management decisions.
As a worker, you are not expected to suffer for anyone's failure or inability to perform their own due diligence.
2.
Salon owners utilize the independent contractor classification to avoid wage and labor compliance.
When a person is self-employed, they're generally not eligible for worker's compensation, unemployment, the required minimum wage, overtime wages, federal protections against workplace discrimination and retaliation, or any of the other benefits they would be entitled to if they were employees.
3.
Never let a salon owner tell you this classification is "better for you because you won't have to pay taxes."
Trust me, you will have to report your income and pay your taxes. In reality, this situation only benefits the salon owner, because they get to control you like an employee and skip out on worker's compensation insurance, employment tax, wage obligations, and the other responsibilities and liabilities that come in exchange for that degree of control.
4. Misclassification of employees as independent contractors is a crime.
State and federal governments take tax evasion, wage theft, and labor abuses pretty damn seriously. They take them so seriously they team up and perform joint investigations. Whichever agency is initially alerted (whether it's the IRS, the DOL, or your state labor board) will alert the two others. They will join forces in what's called a "three pronged investigation." (I call it the Hell Trifecta.)
Unless you are truly a freelance professional, following the money wherever it may be and setting your own terms working under your own brand, you are likely not an independent contractor, and no salon owner will be able to twist the truth enough to justify tax evasion and labor abuse with the IRS.
The only way this pervasive abuse stops is if we stop allowing it to happen in the first place.
If your employer has been misclassifying you, read this post to learn how to approach them respectfully about correcting their practices before it's too late.
---
Take the Courses
I'm introducing a full online course! Part 1: Foundations, covers employment law (worker classification, common exploitation tactics, and everything your school didn't teach you about working in the beauty industry). In Part 2: Contracts, you'll learn all about employment contracts and lease agreements, including how to identify illegal and abusive terms, negotiate, and heed serious red flags. Bundle both classes together and save!
---
Recommended Reading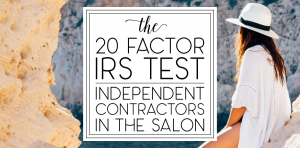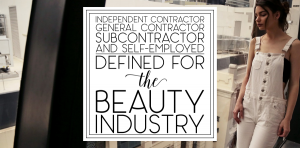 ---
Recommended Tools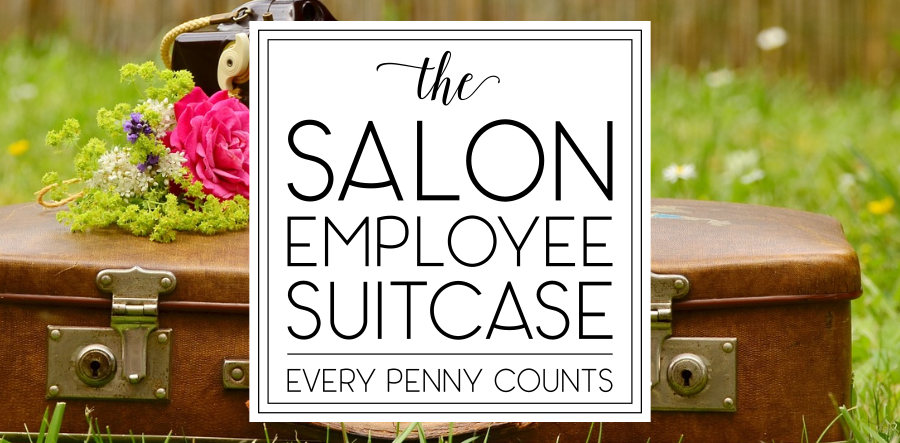 The Salon Employee Suitcase. The Salon Employee Suitcase contains
everything you need to get acquainted with your rights as an employee and protect your wages, so check it out.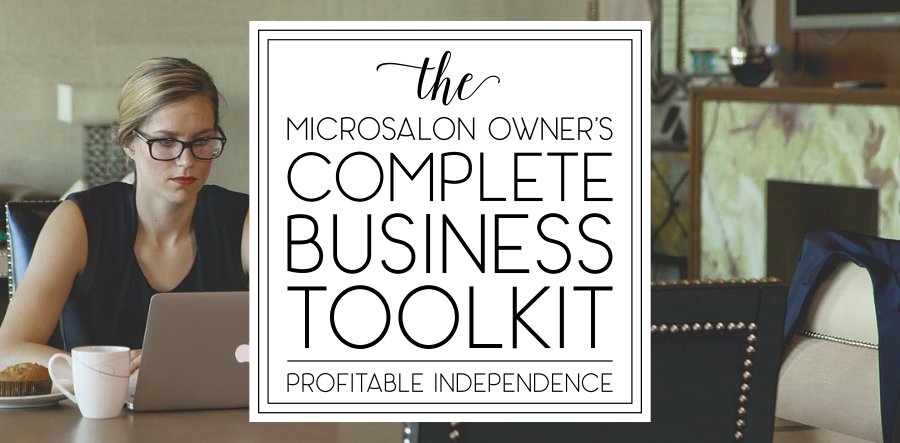 The Microsalon Owner's Complete Business Toolkit is our biggest, baddest download to date, containing an absurd amount of information and a valuable pricing spreadsheet for self-employed salon professionals.

---
A quick message to the rabid keyboard warrior salon owners: before commenting here (or anywhere on this site), do yourself the tremendous favor of researching me and what I write before you decide to make a fool of yourself. I've written over 300 articles, many in defense of salon owners. I don't play favorites here. I call bullshit like I see it.
If you don't like the laws, take it up with your congressman. I didn't write them, but I expect you to obey them like every other business owner in the country.
---
FAQ for Salon & Spa Owners
"I'm a salon owner and a booth renter is causing serious problems in the salon. Can I terminate her contract before the renewal term?"
If there is a clause in the rental agreement that states that the owner can terminate the contract at any time, yes you likely can. If not, you must abide by your state's commercial landlord/tenant laws, if any exist. To save yourself the aggravation in the future, consider having your attorney write termination provisions into your future rental contracts.
"My employee brought her clients, can she take them with her?"
It depends on whether or not the employee signed a valid non-solicitation agreement (not to be confused with a non-compete agreement).
You don't want employees coming into your business and taking clients from you. Treat your professionals as you expect to be treated and do not take from them what isn't yours to take.
"Help! My employees are copying my client's contact information for their own records! What can I do?!"
If you had them sign non-solicitation agreements, you can likely cease the activity immediately and threaten termination and/or legal action. If you didn't have them sign anything, there's likely not much you can do about it, but you should damn well try.
"I run a booth rental salon, do I need to provide keys and security codes to each renter?"
The IRS no longer makes keyholding a requirement. Whether or not you are legally required to do so depends on your state's commercial landlord/tenant laws. Consider electronic deadbolts. Give your renters passkeys for 24/7 business access. Charge extra for it.
"What is the best employment and compensation arrangement?"
Here is an article I wrote regarding compensation methods and which I believe is the best.
FAQ for Booth Renters
"Can the salon owner fire me?"
You're not an employee, so no. A landlord can never really "fire" you. (That's the wrong word.) They can, however, terminate your lease. Read your contract carefully to find out if there are any clauses that allow them to terminate without notice and check your state's commercial landlord/tenant laws.
"The salon owner sold the business and the new owner is trying to raise my rent. Can they do that?"
Probably not. Generally, they have to abide by the original lease agreement or renegotiate it with you.
"Can the salon owner tell me what products to use or force me to go through their training program?"
No. You are your own business owner. You choose the products, you choose the services, you set the prices. You are not required to go through any training or adhere to any rules the owner sets forth.
"Can the salon own force me to participate in promotional events or take coupons?"
No. You can participate if you want to, but requiring you to would likely constitute an inappropriate degree of control.
"Do I have to put the salon name on my business cards?"
No, and you shouldn't. Keep your business separate from the establishment you're leasing from. You are your own business.
DO NOT ADVERTISE A BUSINESS THAT DOESN'T BELONG TO YOU.
You can say you're "located inside of [insert salon name here]" if you'd like, but don't use their logo.
"My boss has me pay a percentage of my daily service sales as rent. If I make under a certain amount, my contract says I have to pay a set amount. Is that legal or fair?"
That depends. As of the updating of this article (December 6th, 2022), I cannot find any laws to dictate otherwise.
As a rule, your rent should not be variable since the value of the space doesn't change from week to week. I will say this though: if you're new talent just out of school or you're getting back in the game after a long time out, it may be beneficial for you to start out on profit-share in lieu of fixed rent during the time you're building.
Keep in mind that you are still required to provide your own products, manage your own books, and promote yourself, so your rent should reflect that (you should be paying out 15-20%).
A lot of owners won't offer this opportunity to stylists because it is hard to track and puts them at a financial disadvantage, but some kindhearted, generous owners do offer it. If you're an established pro and the owner wants 40 or 50% of your commission as booth rental–no. Get out of there.
Owners, in five out of six IRS revenue rulings, salon landlords who took a percentage of gross sales in lieu of rent were determined to be employers; not landlords. If you don't want to find yourself in a position where you have to pay back wages, back taxes, and penalties, avoid the practice and take a flat rental amount.
"Can I claim my booth rental as a business expense on my taxes?"
Yes. It is a business expense.
"Do I have to carry my own salon insurance?"
Technically, yes. Salons usually provide general liability and property insurance while the booth renter is asked to provide their own professional liability. Many salon owners will provide professional liability insurance as a courtesy, however. Check with your salon owner to make sure that you are covered. If not, shop around for a plan. Quickly.
"The owner wants me to use her receptionist and have my clients pay at the front desk. She is then going to write me a check for the full amount. Is this legal?"
DO NOT. This puts the salon landlord in an extremely legally perilous position. Your clients pay you. They book appointments with you. Do not hand your money over to anyone else for any reason. You are a self-employed business owner. Keep your business separate from the salon owner's.

FAQ for Employees
"Can I notify my clients that I'm moving to a new salon?"
That depends on several factors. Are the clients yours? Were there any stipulations in your employment contract that say you can't market to the clients?
In order for a client to be "yours" you have to have brought them with you to the establishment from your school or prior place of employment. Clients you gain through referrals from these clients fall into this category as well. These are clients you obtained through your own networking and advertising, so they belong to you and you should have their information kept in a safe place at home. Those clients who are loyal to you are going to want to know where you've gone.
I've seen it happen a thousand times when a stylist leaves and doesn't notify their clients. You know who else doesn't notify their clients? The owner. Generally, your appointments will get shifted to whoever is available and the client will only discover that you're gone when they show up for their appointment. In almost all cases, the owner will not divulge any information on where you've relocated to in an effort to retain those clients (definitely a bad move on their part because the clients do not appreciate it). Your clients are your paycheck. You work hard to build that book so keep it together and protect it.
Now, if the clients are people that you've gained at the salon, there is a whole different set of rules. Say the client walks in off the street or calls because she saw an ad in the paper. This client was obtained through the owner's networking and advertising tactics and this client does not belong to you.
It doesn't matter if the client has been seeing you for five months or fifteen years. If they initially came to the salon because of the owner's marketing, their contact information belong to the business–not you. It is unlawful and incredibly unethical to try and lure these clients away from the salon and yes, your ex-employer can take legal action against you for it (as they should).
"I was fired from a commission salon. Can I get unemployment?"
Whether or not you're eligible is debatable and situation-specific. Whatever you do, do not ask me about it. Ever.
"Can my boss require me to provide my own product?"
As an employee, providing product is their responsibility. If there are products you prefer to use, you will have to get permission from your boss and pay for it out of your own pocket. (A lot of owners will accommodate you however, if you have a preferred product that you absolutely can't work without. Many of them understand. All of us have a few of our favorites.) Most states have laws in place to protect employees from unlawful paycheck deductions, like head fees, service charges, or product fees.
FAQ for Independent Contractors
"Can the owner make me stay if I have no clients?"
No. You are an independent contractor. You are not required to do anything other than the services you've been contracted to perform.
"Can the salon owner make me sign a non-compete agreement, making me exclusive to that establishment?"
As an independent contractor, you can work at every salon and spa in town if you want and freelance on the side. You are not obligated to any of them.
"Am I required to perform work I'm not getting paid for? (Like answering phones, cleaning, and folding towels?"
Independent contractors perform services. That is it. It is courteous to pick up after yourself and leave the treatment area in the same condition you found it, but outside of that, those jobs are the responsibility of the business owner.
"Am I required to supply my own product and equipment?"
If you prefer to supply your own product and equipment, you can, but it will be at your own expense. A business owner is not required to cater to your preferences. However, you can (and should) charge them for the product expenses.
"The owner handed me her contract. I've read it and I absolutely can't work under her terms. Can I back out without a penalty?"
Yes, as long as you haven't signed the agreement.

General FAQ
"The owner wants me to sign a non-compete contract. The contract states that I will not work at any other spa while working at her business. The contract also says that I can not work in the same town or market to the spa's clients. It also says that any clients I bring to the spa become the property of the spa and that I can't take them with me if I choose to move on. Can they really enforce this?"
Generally they can't because most states consider non-competes that restrict employees from working in the same town to be unconstitutional, but in no case should you ever sign a contract like that. Ever. Never sign anything that could impair your ability to work. Here's an article on non-compete agreements.
"My boss doesn't do payroll. They pay cash out at the end of every day or week. Is that legal?"
It's shady. If they're not doing payroll and they're paying you cash, they're not claiming you as an employee. Your taxes aren't getting paid and they're putting you in a bad situation. In addition, many states have laws regarding how payroll is handled and reported to the employees of a particular establishment.
---
Let's talk!
If you have a question that isn't answered here, or a unique situation that you'd like to discuss, email me to make a consulting appointment!