Chances are that you're finding this article at tax time. You're either learning that you were misclassified by your employer, or (if you're a salon owner yourself) that you may have been misclassifying your salon professionals. Many people in the beauty industry don't truly understand the meaning of the word "independent contractor," or how it applies to salon workers. This article will clarify the 20 Factor Test the IRS uses to determine employment status to give you a thorough understanding of the classification in easy-to-read language.
---
This article is primarily written about "independent contractors" who are on the salon owner's payroll. It will only be relevant to booth renters if these control factors are present in their current rental situation. Some renters do get exploited and may not realize that their salon owner is charging them rent and treating them like an employee.
---
Three Common Industry Misconceptions
A person is either employed or self-employed.
There is no in between. There is no such thing as a "hybrid status." You cannot be an employee who is also "independent" or self-employed. Many people in the beauty industry have this belief that an independent contractor or "subcontractor" is a special type of employee that has more freedoms than a regular employee, but not as many freedoms as a booth renter or someone who is self-employed. This is utterly incorrect.
If you are responsible for paying the entirety of your employment tax responsibility, you are self-employed.
True beauty "subcontractors" are exceptionally rare.
A subcontractor is a person or business that contracts to provide some service or material necessary for the performance of another's contract.
A salon owner is not a "general contractor" just because they're self-employed business owners.
A general contractor is a person who contracts for and assumes responsibility for completing a construction project and hires, supervises, and pays all subcontractors. General contractors are under contract themselves by a business entity. They are the overseers of a large project they're tasked with ensuring the completion of.
Does that sound anything like your salon owner? Probably not. Your salon owner, like most salon owners, own a business entity operating independently of any outside control.
For more information about what these words mean and to see how they might be used properly in the industry, read this post.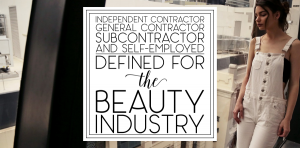 ---
What is the 20-Factor Test?
The IRS has a 20-factor test for determining employment classification status. This test is usually used after a worker files an SS-8 Form, a document requesting the IRS make a determination regarding their employment status. A worker who files this form is essentially asking the IRS to review their employment arrangement and decide whether they are employed or self-employed, so they know what employment tax rate they should be paying. The 20-factor test is the tool the IRS uses to make that decision.
Even a cursory examination of these determining factors makes it painfully obvious that the independent contractor classification seldom belongs in our salons. To illustrate, we're going to go over each and every one of those factors and discuss why and how this status can be inappropriate in a salon setting. First, lets clear up some of the terminology.
"The person or persons for whom the services are being performed" are not the clients; they are the salon owners. The salon owners are the ones "contracting" salon professionals for their services. The clients themselves are the "services" (or jobs/assignments) the independent contractors are being contracted to complete. As you go through these, remember that when they use that terminology, they are not talking about the client sitting in the chair.; they're talking about the person who contracted you.
When the IRS refers to "services," they're talking about the tasks you perform within your job title. For nail techs, these would be manicuring and pedicuring services. For hairdressers it would be coloring, cutting, and styling. For estheticians it would be skin care services. The IRS is not necessarily discussing the individual services you provide to clients. In many cases, they're referring to the services you provide in general in your professional role.
The "general public" includes competing businesses (other salons) and private customers (clients).
---
The IRS 20 Factor Test
(Clarified for the Beauty Industry)
1.) Instructions
A worker who is required to comply with other persons' instructions about when, where, and how he or she is to work is ordinarily an employee. The control factor is present if the person or persons for whom the services are performed have the right to require compliance with instructions. 
If a salon professional works a schedule (being told when to work), is expected to perform that work inside the salon owner's salon (being told where to work), and is being trained on how to perform their services by the salon owner (being told how to work), they are likely an employee. Even if the worker was not dictated to in this manner, if the salon owner retains the right to require compliance with their instructions, this control factor is present.
2.) Training
Training a worker by requiring an experienced employee to work with the worker, by corresponding with the worker, by requiring the worker to attend meetings, or by using other methods, indicates that the person or persons for whom the services are performed want the services performed in a particular method or manner.
If the salon owner requires the professional to apprentice or assist as a condition of their job and/or requires them to attend meetings or continuing education classes, they're likely an employee. An independent contractor is only responsible for the attainment of a result. They are not to be told specifically how to attain that result. The only thing that matters is that the service they were contracted for is completed in a satisfactory manner.
3.) Integration
Integration of the worker's services into the business operations generally shows that the worker is subject to direction and control. When the success or continuation of a business depends to an appreciable degree upon the performance of certain services, the workers who perform those services must necessarily be subject to a certain amount of control by the owner of the business.
Salons provide beauty services. Beauty professionals perform those beauty services. Whether or not a salon professional's services are integrated into the business likely cannot reasonably be debated. For example, the success of a hair salon hinges on the performance of hair services. Without those services, the business would not produce any profit and it would fail. Those hair services are integral to the success and continuation of that hair salon.
4.) Services Rendered Personally
If the services must be rendered personally, presumably the person or persons for whom the services are performed are interested in the methods used to accomplish the work as well as the results.
If the professional is sick, can they call any other licensed professional and have them handle their appointments for the day? Probably not. If the professional does not have the ability to delegate jobs to other professionals at their discretion, they are likely not independent.
5.) Hiring, Supervising, and Paying Assistants
If the person or persons for whom the services are performed hire, supervise, and pay assistants, that factor generally shows control over the workers on the job. However, if one worker hires, supervises, and pays the other assistants pursuant to a contract under which the worker agrees to provide materials and labor and under which the worker is responsible only for the attainment of a result, this factor indicates an independent contractor status.
Can a professional decide for themselves to interview and hire people to assist them without the salon owner's consent? Booth renters and freelancers generally can, because they are truly self-employed if they're being treated properly. However, the majority of salon workers do not have the freedom to hire or manage their own assistants.
6.) Continuing Relationship
A continuing relationship between the worker and the person or persons for whom the services are performed indicated that an employer-employee relationship exists. A continuing relationship may exist where work is performed at frequently recurring although irregular intervals.
Is the professional expected to show up to work regularly and to remain loyal to one particular salon? We'll get into this more later, but this factor makes it extremely clear that the IC status is very, very commonly abused. Independent contractors retain their independence, which includes the freedom work wherever they please and offer their services to anyone willing to pay (including competing businesses).
7.) Set Hours of Work
The establishment of set hours of work by the person or persons for whom the services are performed is a factor indicating control.
If a salon professional classified as an independent contractor works a set schedule that the salon owner established, that's an indicator of misclassification.
8.) Full Time Required
If the worker must devote substantially full time to the business of the person or persons for whom the services are performed, such person or persons have control over the amount of time the worker spends working and impliedly restrict the worker from doing other gainful work. An independent contractor, on the other hand, is free to work when and for whom he or she chooses.
If the salon owner puts an independent contractor on a full-time schedule, has them sign a non-compete, or has them sign an employment contract, that independent contractor is extremely likely to be determined an employee. This factor indicates a significant degree of control that is highly inappropriate for the IC classification.
9.) Doing Work on Employer's Premises
If the work is performed on the premises of the person or persons for whom the services are performed, that factor suggests control over the worker, especially if the work could be done elsewhere. Work done off the premises of the person or persons receiving the services, such as the office of the worker, indicates some freedom from control. However, this fact by itself does not mean that the worker is not an employee. The importance of this factor depends on the nature of the service involved and the extent to which an employer generally would require that employees perform such services on the employer's premises. Control over the place of work is indicated when the person or persons for whom the services are performed have the right to compel the worker to travel a designated route, to canvass a territory within a certain time, or to work at specific places as required.
Is the professional required to perform their work in the salon owner's salon or are they permitted to service the client at their private studio? In most states, salon services must be performed inside a licensed, board-approved salon facility. However, a truly independent contractor will generally have the ability to perform the service wherever they please (so long as the place they choose is also compliant with applicable state board regulations).
10.) Order or Sequence Set
If a worker must perform services in the order or sequence set by the person or persons for whom the services are performed, that factor shows that the worker is not free to follow the worker's own pattern of work but must follow the established routines and schedules of the person or persons for whom the services are performed. Often, because of the nature of an occupation, the person or persons for whom the services are performed do not set the order of the services or set the order infrequently. It is sufficient to show control, however, if such person or persons retain the right to do so.
If a professional is expected to perform services the way the salon owner dictates following the salon owner's service protocols, that's indicative of an employee/employer relationship, but take a look at that last sentence. Even if the salon owner gives the independent contractor the freedom to perform their services in their own sequence, if they retain the right to set that order, it is sufficient to show control.
11.) Oral or Written Reports
A requirement that the worker submit regular oral or written reports to the person or person for whom the services are performed indicates a degree of control.
This doesn't often apply to our business, however, it may apply if the salon owner requires the independent contractor to submit sales reports. (This is common in rental salons where salon owners don't set flat rental rates, but instead take a percentage of each renter's gross sales. In these situations, five out of six IRS revenue rulings determined that salon landlords who took percentages were actually employers.)
12.) Payment by Hour, Week, Month
Payment by the hour, week, or month generally points to an employer-employee relationship, provided this method of payment is not just a convenient way of paying a lump sum agreed upon as the cost of a job. Payment made by the job or on a straight commission generally indicates that the worker is an independent contractor.
Do not let the last sentence confuse you into believing that classifying commission-only employees as independent contractors is permissible. If we're going to get really technical here, commission-only generally isn't legal unless the owner is auditing the hours worked against the commission and ensuring that the workers are making at least minimum wage at the end of each pay period. (I have an article on that here.)
When the IRS talks about an independent contractor who is paid commission or by the job, they're talking about people who come into a random business, do a job that needs doing that is not integrated into that particular business, do that job without any outside interference or direction, and leave with their payment with no expectation to return.
If a salon professional is on someone's payroll and getting paid at regular intervals, they are most likely an employee.
13.) Payment of Business and/or Traveling Expenses
If the person or persons for whom the services are performed ordinarily pay the worker's business and/or traveling expenses, the worker is ordinarily an employee. An employer, to be able to control expenses, generally retains the right to regulate and direct the worker's business activities.
If the salon owner reimburses the professional for gas spent driving to/from a class or networking event, and if the owner is buying the products the professional is using (or reimbursing them) that professional is likely to be determined an employee. An independent contractor generally makes a significant investment and has a realization of profit or loss (those are further below, we'll discuss them more when we come to them).
14.) Furnishing of Tools and Materials
The fact that the person or persons for whom the services are performed furnish significant tools, materials, and other equipment tends to show the existence of an employer-employee relationship.
If the salon owner requires a professional to use a certain set or brands of tools (CHI blow drier, Wahl clippers, Hattori Hanzo shears) which the salon owner provides, that professional is likely an employee. Most of us buy our own tools, but "materials" are usually furnished by the salon. So, if the salon owner requires a professional to use a particular product line that they provide, that professional is not truly exercising independence, even if the salon owner requires the professional to pay them for the privilege of using their chosen products.
15.) Significant Investment
If the worker invests in facilities that are used by the worker in performing services and are not typically maintained by employees (such as the maintenance of an office rented at fair value from an unrelated party), that factor tends to indicate that the worker is an independent contractor. On the other hand, lack of investment in facilities indicates dependence on the person or persons for whom the services are performed for such facilities and, accordingly, the existence of an employer- employee relationship.
Booth renters typically have made a significant investment. They pay their rent for their "office" and work in their space at their own discretion. If a professional works as an independent contractor in a salon that they do not have any investment in, they are dependent on the salon owner for the facility.
16.) Realization of Profit or Loss
A worker who can realize a profit or suffer a loss as the result of the worker's services (in addition to the profit or loss ordinarily realized by employees) is generally an independent contractor, but the worker who cannot is an employee. For example if this worker is subject to a real risk of economic loss due to significant investments or a bona fide liability for expenses, such as salary payments to unrelated employees, that factor indicates that the worker is an independent contractor. The risk that a worker will not receive payment for his or her services, however, is common to both independent contractors and employees and thus does not constitute a sufficient economic risk to support treatment as an independent contractor.
A booth renter can realize a profit or suffer a loss. She could spend a bunch of money on rent, product, and equipment and never recoup them. She could hire an assistant and drain her savings paying for him because she doesn't have enough business to sustain his paychecks. (We'll assume she's super bad at her job and can't even pay clients to sit in her chair.)
That being said, salon employees generally also have a risk of profit or loss, as stated in the last sentence. Anyone who has ever had an owner refuse to pay them their commission when a client has complained about a service knows exactly what it's like to realize a loss as an employee.
However, this factor references a significant investment and a realization of profit or loss. If both of these factors are present in the absence of employer control and an absence of an expectation of a continuing relationship, the odds are good that the worker is independent.
17.) Working for More Than One Firm at a Time
If a worker performs more than de minimis services for a multiple of unrelated persons or firms at the same time, that factor generally indicates that the worker is an independent contractor. However, a worker who performs services for more than one person may be an employee of each of the persons, especially where such persons are part of the same service arrangement.
"De minimis" is a Latin expression meaning, "of minimal things." Trivialities. A trivial service in a salon would be a repair to a broken shelving unit performed by a carpenter. This is not integral to the success of the business overall.
What salon professionals do in a salon is not de minimis. If the professional is prohibited from performing their services at other salons (either with or without a non-compete in place), they are not truly independent. This is true even if the salon owner gives the professional permission to perform de minimis services at competing businesses.
For example, let's say that you're a part-time stylist who has a cleaning business on the side. If the salon owner says you can clean a competing salon but you can't work as a stylist there, you are being restricted from performing more than de minimis services and are therefore very likely an employee of that salon owner.
18.) Making Service Available to the General Public
The fact that a worker makes his or her services available to the general public on a regular and consistent basis indicates an independent contractor relationship.
If a professional is permitted to work in other salons, take clients at their home salon, and basically work for anyone willing to pay them for the privilege, they are likely legitimately self-employed. If the owner says the professional cannot perform services for anyone outside of their business, they're likely an employee.
19.) Right to Discharge
The right to discharge a worker is a factor indicating that the worker is an employee and the person possessing the right is an employer. An employer exercises control through the threat of dismissal, which causes the worker to obey the employer's instruction. An independent contractor, on the other hand, cannot be fired so long as the independent contractor produces a result that meets the contract specifications.
If you're independent, you generally can't be fired as long as you're continuing to provide satisfactory results. Independent contractors are actually contracted. They sign an agreement to perform a particular, specific, one-time job. As long as that job is completed to the contract's specifications, they can do the job however they please, whenever they please, using whatever tools they please. They can't be "fired" since they're not employees. Rather, the person contracting them (the salon owner in our case) could terminate the contract and potentially sue the contractor for failing to fulfill their obligations under the agreement.
If the salon owner has the ability to threaten a professional with termination, they are likely not independent.
20.) Right to Terminate
If the worker has the right to end his or her relationship with the person for whom the services are performed at any time he or she wishes without incurring liability, that factor indicates an employer-employee relationship.
Remember our contract termination example from above? A typical independent contractor's contract will have penalties for early termination on the contractor's part, too. If they break the agreement, they'll generally face consequences.
For example, let's say you hired a really sexy contractor to repair some drywall. (You may or may not have purposefully bashed a hole in that wall just to lure him into your house.) As he's working, you sit back, relax, and stare at him dreamily. He becomes incredibly uncomfortable with your gawking, drooling, sighing, and mouth breathing and decides to terminate the contract and leave. The contract has a penalty that requires the contractor to return the deposit in full plus a $50 fee and give you a big kiss on the cheek before he goes. He's a little disappointed with himself for signing that contract without reading the fine print, but he pays his penalty and leaves, feeling shamed and objectified, vowing to sue you for sexual harassment.
You get the point.
---
Using the Independent Contractor Status Correctly in the Salon
Independent contractors are freelance professionals. They're nomads who go wherever there's work to be found. They have their own websites, set their own prices, and work entirely at their own discretion for whoever is willing to pay their fees.
Generally, these nomads have a special edge over their competition that makes them unique and highly desirable professionals, but that "special edge" tends to be a niche specialty service that doesn't quite warrant their full-time employment at any one location. These people tend to call themselves "specialists" or advertise that they "specialize" in something specific. They carry their own insurance, provide their own tools and product, perform their services without any instruction or intervention, and go wherever the wind blows them. Many of them also maintain their own business locations (typically studio suites or home salons). Makeup artists (those who do permanent makeup, traditional makeup, and special effects makeup) are commonly found in the freelance world, as are career session stylists and manicurists.
On extremely rare occasions, a salon owner can hire a freelance professional as an independent contractor to perform a specialty service or to work a special salon event, so let's look at some examples of how that arrangement might play out.
The Independent Educator/Consultant
A perfect example of an independent contractor in the beauty industry is an independent educator and/or consultant (like me).
I am not on anybody's payroll.
I am not exclusive to anyone. I go where there's work and I do so at my discretion.
There is no expectation of a continuing relationship. I could visit twenty different salons across the state in a month. I might return to a few of those salons again in the future to teach another class or consult with the owner, but there's no expectation of a continuing relationship past that one job.
I can teach or consult wherever I please. It's my call entirely where I choose to host those meetings or classes.
Nobody tells me what to do or how to do it.
If I choose to break an agreement, my contracts require me to return any deposits.
If I require the services of an assistant (which I sometimes do), I choose, hire, and compensate them myself.
Nobody owns me. I'm a self-employed business owner working out a contract for another business owner.
The Permanent Makeup Artist
A salon owner has heard that several of her clients are interested in getting permanent makeup, but there isn't enough of a demand for it to hire a permanent makeup artist at her location. She's also not interested in taking on the liability of such a high risk service. However, she wants to make those clients happy and she happens to know of a really great permanent makeup artist that works freelance.
The owner decides to schedule an permanent makeup party for her clients. The PMUA agrees to work the event and provides the salon owner with her rates and service prices. The two agree to contract terms.
They mutually agree on a date and time for the party to start and end.
The PMUA will be closing her salon to be present for the party, so should the salon owner cancel, the contract will hold her responsible for paying the PMU an amount that equates to the amount of money she will have lost as a result of her business being closed.
The salon owner has clients who will be relying on the PMU to be present that day, so if the PMUA cancels, the contract assigns a penalty to her as well.
The PMUA will be bringing all of her own supplies, products, and equipment.
The PMUA will be wearing her own branding and will distribute cards and aftercare information to the clients that bear her branding as well.
The salon owner will provide payment in full for the agreed upon services (outlined in the agreement) as soon as the PMU arrives for the event.
When the event has satisfactorily concluded, the agreement will be fulfilled and the two will part ways.
In this scenario, both participants are business owners, meeting on equal ground. The terms are defined, penalties are assigned, and independence is clear. The salon owner will not be telling the PMUA how to perform the service, what products to use, or requiring her to wear the salon's branding. The service the PMUA offers isn't one that is integral to the salon (the salon doesn't even offer it). The agreement and their relationship terminates upon the fulfillment of the contract.
---
Working in the same salon every day, being expected to be loyal to that salon, being paid a paycheck on a biweekly basis, being told what to do and how to do it, being told what products/tools to use to perform your services, being controlled through the threat of dismissal, being required to go to training or mandatory meetings, and being required to work a schedule set by the salon owner are all indicators that a professional is very likely an employee.
Nothing about that says "self-employed."
So why the hell should they be paying the entirety of their employment tax responsibility? That's not their burden to carry if they're not enjoying the freedoms owed to them in exchange for that higher tax rate. Salon owners, if you want to control a professional like an employee, you need to be paying your share of their employment tax like every other employer in every other industry.
Professionals, quit accepting labor abuses under the guise of "industry custom." It is not customary to be exploited by your employer just because a whole lot of owners conveniently believe the same misinformation.