A lot of new salon owners have no clue what the best compensation model is. They want to be fair to their staff, they don't want to get audited or sued for not paying the right amount, and of course, they want to profit. If you're confused about which compensation model is the best for your salon, keep reading.
How Involved Do You Want to Be?
The first factor to consider is your desired level of involvement.
"I want to manage and direct my salon!" If you're interested in actively managing your staff and want to have the most control over your business, you need employees.
"I don't want to manage anyone." If you would rather collect a steady stream of revenue, booth renters are the way to go.
Booth Renters
Pros: Booth renters pay a set amount each month. They manage their own businesses, provide their own tools and products, and process their own transactions. They also carry their own professional liability insurance. You are not responsible for their employment tax and they are not on your payroll. They set their own hours and do their own thing.
Cons: You generally have no control over booth renters. They're self-employed, so you typically cannot tell them what to wear or how to behave. You can't tell them what to charge, what services to offer, or set work schedules for them. You cannot force them to go through any training or continuing education that isn't required by state regulations to maintain their licenses. They are simply business owners that rent a station as opposed to a building of their own. Your only job is to collect their rent. Additionally, if there is a client complaint, you cannot rectify it because it is not your responsibility to reimburse on behalf of another business owner. Since clients tend not to understand the business model, they don't differentiate the renter from the establishment, so they tend to trash talk the business as opposed to the responsible party.
To learn if booth renters are right for your salon, click here.
Should you decide that the booth rental model is right up your alley, I've created a downloadable just for you. The Salon Landlord's Toolkit has a ton of resources for salon landlords, including a spreadsheet that sets your base rental prices for you!
$14.99Add to cart
My Opinion: Having multiple business owners operating in direct competition under the same roof is a bad idea (unless you have a group of professionals who share a similar work ethic, which is almost impossible to find). Rental is great for business owners looking for mostly stable income with little responsibility, but a salon full of troublesome renters can be more problematic than it's worth.
Employees
Pros: You have complete control over scheduling, services offered, quality of work, pricing, policies, dress code, and products. You can assign employees chores and make attendance at meetings and continuing education classes mandatory.
Cons: You are responsible for providing product and paying employment taxes. Employees require supervision and training, so if you're not interested in managing them, either hire someone who is or go with the booth rental model. You are also responsible (partially) for ensuring that they're making money and staying productive.
My Opinion: Employees are the way to go if you have a desire to actually run a business and manage that business' reputation. A team-based environment is best for ensuring longevity and employee satisfaction.
---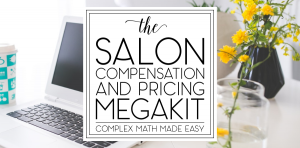 The Salon Compensation and Pricing Megakit calculates salon compensation and service pricing for you! It includes:
The Salon Compensation and Pricing Calculator, an 8-page spreadsheet system that makes salon compensation and pricing calculation as simple as data entry. The best part? The system is enabled with protections to make it impossible to "break" the formulas!
The Salon Compensation and Pricing Guide, a 44-page instruction manual that not only explains how to use the system but also explains every formula so you're never confused about what the numbers mean or where they came from.
A 9-page Employer Obligations Information Sheet to keep you from making very common life-destroying mistakes.
Be Worth What You Charge, an 11-page checklist and salon evaluation resource.

$89.99Add to cart
---
Independent Contractors
Too many people don't understand the true definition of "independent contractor." An independent contractor is much like the plumber that you call to fix your sink or the handyman you call to repair your gutters. They are "contracted" to complete jobs on a per-job basis. They are self-employed. They are not exclusive to any one customer or salon. They have the freedom to set their own hours.
In the salon environment, you would hire independent contractors to work a special event, performing services that your salon doesn't typically offer.
For a detailed breakdown of exactly WHY an independent contractor seldom belongs in a salon and the consequences for misclassifying your employees as independent contractors, click here.
Pros: Because work is performed on a per-job basis, there is no obligation to provide continuing employment. Independent contractors are great for those rare, specialized services like permanent makeup or eyelash extensions. This allows you to offer those services for a special event (like a Mother's Day Spa Party) without having to staff those areas year-round.
Cons: You have very little control over contractors. You set the prices, but they perform the services their own way with their own products. Because everyone is different, you can't guarantee the same quality of service from one provider to the next.
Independent contractors are gypsies. They go where the money is. The contractor is not and will never be exclusive to you.
Imagine you find an amazing permanent makeup artist and find that she is drawing a lot of business to your salon during your events. She starts contracting at another business down the street. The competing business offers her services at lower prices. If you want that PMU artist to be yours and yours alone, you'll have to hire her as an employee (if she'll accept).
My Opinion: Independent contractors do have their place in the salon when used properly. I have often used specialists as contractors for rarely utilized services (like permanent makeup). However, too many employers do NOT use this system correctly.
If you are going to call your staff independent contractors but expect them to work your schedule, pledge loyalty to your salon, and bend to your will like employees, you deserve to get audited into bankruptcy.
Compensation Options
Now that we've reviewed the three different types of employees, we can go over the compensation models for each.
Renters: They pay rent. There is no need to compensate them for anything and you provide them with nothing. They run their own business under your roof without interference and–as long as their rent is paid up–you mind your business.
They pay you a flat fee every week or month. I will take this time to state that taking a percentage of their earnings as rent is NOT ACCEPTABLE. Percentage-based rental agreements are legally perilous at best. (In five out of six revenue rulings, the IRS determined salon owners who took percentages in lieu of set amounts to be employers, and punished them accordingly.)
The rent must be a fixed amount paid at regular intervals and you must have a written lease in place to protect both you and your renter.
Independent Contractors: Independent contractors are paid by the job. You will negotiate compensation with them, or pay their rates (if their rates aren't negotiable).
Employees:
With employees, you have three options: hourly pay, hourly pay vs commission, hourly pay + bonuses for performance.
Hourly Pay
Hourly pay is the easiest compensation model.
Pros: Both you and your staff know exactly how much money is going to be paid per pay period.
Cons: If your employees are making the same amount hourly regardless of what they're doing, they're less likely to upsell. They have no motivation to work harder than they have to, basically. This could become a problem if the clients aren't happy (which they won't be if your staff aren't motivated to keep them happy).
You might also attract the wrong employees. Unless the hourly wages are substantial, salon professionals who are happy to bring in flat hourly wages instead of working on a system with commission incentives either aren't very experienced or aren't very good at what they do, as most commission systems enable employees to far exceed typical hourly base wage amounts.
My Opinion:
Nobody is more committed to meeting the needs of a customer than an employee whose financial success is determined by how satisfied that customer is.
Employees who have the incentive to upsell in order to increase their own bottom line (and ensure client retention) are more attentive, more hard-working, and more effective professionals. I'm not a fan of the hourly-only compensation plan.
Hourly Pay vs Commission
This is the second best compensation model, in my opinion. This model offers the employee a base hourly pay (which exceeds the prevailing minimum wage) versus a commission percentage. At the end of the pay period, the hourly pay is compared to the commission amount. The employee receives the higher of the two.
Pros: You know at least how much you'll be paying out per employee and your employees know at least how much they'll make every week. They are still motivated to upsell because obviously, they'll want to make commission (if they are happy making minimum wage, tell them to pursue a career at McDonald's or one of the many fine retail establishments in town and boot them the hell out of your business).
Cons: I don't really have anything to add here except that the pros of the hourly + commission bonuses system outweigh the pros of the hourly versus commission system by leaps and bounds, so it's not my favorite.
My Opinion: This compensation model leaves itself open to abuse for the same reason the hourly only system does, but it's less likely to be abused. As opposed to commission only, your staff can't bitch about being asked to perform duties outside of the ones they perform behind the chair. They'll be getting fairly compensated for doing towels, cleaning the floors, and answering phones if you need them to.
This compensation method can also be used to easily evaluate employee performance. Many salons have policies in place that make continued employment conditional on whether or not the employee makes their commission. For example, if an employee does not make more in commission than they do in hourly for three pay cycles in a six month period, their employment will come under review to determine what the problem is, whether it can be corrected, or if it's time for the employee to find work elsewhere.
Hourly Pay + Performance Bonuses
This is my favorite compensation model. It is very similar to the hourly vs commission pay scale, only instead of a set commission, you offer tiered commission based on performance goals.
For example, your employees make $12 an hour, but if they make over a certain amount in gross sales that pay period, they earn a modest percentage of that as well. If they perform beyond higher threshold, they become eligible for a higher bonus. You can set as many performance thresholds as you want, assigning higher percentage bonuses to each.
Pros: Your employees are motivated to make more money, since the more they make, the higher their commission bonuses are. They will always make at least their hourly rate also, so they know what they can expect come payday, at the very least.
Cons: This compensation method requires a little more work on your part when calculating payroll and may not work in touristy or seasonal areas that experience strong fluctuations in client traffic. I strongly recommend using a carefully crafted spreadsheet or a computerized salon management system to calculate everything for you.
My Opinion: I like this compensation method and think it works well for most salons. It encourages owner participation and diligent management.
Commission Only (CIRCUMSTANTIALLY LEGAL)
This compensation model offers the employees a set percentage of their service and retail income and does not guarantee them the prevailing minimum wage. If they don't earn, they don't get paid.
This system is unjustifiably expensive, unsustainable, and unacceptable.
Pros: This is a pro most owners don't realize isn't permissible in America–you only pay money out to your employees when they're making money. If they aren't making money, you aren't spending any. However…
Cons: It's harder to motivate employees to do any additional work (like cleaning). If they're not getting paid, they're not going to want to sit in the salon all day. Also, this compensation model may not be legal depending on the pay period. The owner must carefully track hours and weigh the prevailing minimum wage against the commission to ensure that the employee is making at least minimum wage for each hour worked. Failure to do this could cause serious issues with the Department of Labor.
Commission vs hourly is the correct compensation method.
My Opinion: I do NOT recommend this method. It's not worth it to risk violating federal law, and the system itself, with it's high commission split, is flawed. (Read this post to find out why this system does not serve us at all and never has.) Besides that, commission-only sucks for employees, especially if the salon owner isn't managing the business and feeding them outdated, damaging lies about what their responsibilities are.
Making a Choice
To choose the right compensation model, several additional factors must be weighed and considered, including your operational overhead, your product cost-per-service, and the amount of time it takes for each service to be completed. First, you will need to use that known data to calculate your service prices. If your salon has sales data, use that data to run projections to determine what you can afford. If your salon hasn't been established, the best you can do is make an educated guess to determine your average hourly ticket sale and run projections based on a deflated version of that figure. (Always underestimate when running projections of any kind.)
The following opinions are based on my observations of salons over the last few years I've worked as a management consultant.
High overhead salons (salons that are in high-rent areas utilizing high-cost product and equipment) will benefit most from an hourly-only pay structure. Once your high overhead salon is busy, you can consider switching to an hourly vs commission or hourly + performance bonuses structure. Until you're certain you can cover your staffing cost, you shouldn't offer more pay than you can afford. Your goal is to keep your overhead as low as possible, especially since the higher your overhead is, the higher your prices will have to be in order to make a profit. Ideally, salon owners will keep overhead as low as possible. Unless you're offering substantial benefits to your employees, it will be hard to recruit and retain talent with hourly-only compensation systems.
Mid-range salons (salons located in reasonably priced areas, utilizing mid-range products & equipment) will benefit most from an hourly vs commission model or hourly + performance bonuses. The goal is always to keep your overhead as low as possible, but mid-range salons that manage their finances responsibly can easily cover their overhead, profit, and pay their employees fairly. Generally, mid-range salons tend to be the busiest since they are affordable but not seen as "discount" salons. This accessibility gives them a competitive edge that makes them more flexible and versatile with regards to their approach to compensation.
"Discount" salons (cheap rent, cheap products, cheap services) will benefit from any compensation model.
You deserve to make a profit.
Don't let anyone tell you otherwise. You are making a tremendous investment in your business and you should absolutely expect that investment to pay off eventually. Don't put your employees at a financial disadvantage or expect from them more than you're owed, but don't be so generous that you put yourself out of business either. Work your numbers to find a system that works for you. (Hint: 50% of gross sales isn't it.)