No matter what reason you have for approaching your salon owner about making changes, you need to handle the issue with sensitivity, professionalism, understanding, patience, and confidence. When all is said and done, you know your boss better than I do. All salon owners are very different and will respond differently. Ultimately, you will know how best to approach them and what reaction you're likely to receive. This post will serve as a general guideline to help you prepare for that meeting. Use your own discretion during yours.
Compile your evidence and plan out your discussion.
Make sure you fully understand every relevant statute you plan on quoting. Have them listed and the appropriate website for each of them organized so that the owner can check them herself.
When I say, "plan out your discussion," I do not mean "plan your attack."
This is not an attack. Flesh out your reasoning for approaching the owner about the issues you're bringing up and prepare to defend those reasons with supporting evidence if you are questioned. For example, if the salon owner has you classified as an independent contractor but you want to be an employee, show her your projected income after self-employment taxes. Show her why the current system doesn't benefit you with cold, hard numbers. You can then supplement this reasoning with the relevant statutes regarding the independent contractor model and explain why it typically does not apply to our industry unless the contractor is a full-time freelancer working for multiple businesses.
Don't get caught off guard. Gather more knowledge than you think you'll need and the supporting documentation to back it up. With knowledge comes confidence.
Arrange for a private meeting.
The time to bring these issues up is not during a staff meeting. If your boss is violating federal tax and/or labor laws, the odds are pretty good that she didn't have a clue. Even if it's just her policies you don't agree with, do not put her on blast in front of her entire staff. That is disrespectful, cruel, and unprofessional. I'm pretty laid back, but if someone did that to me they'd be packing their tools up and leaving shortly after. No business owner in their right mind would put up with that treatment. You certainly wouldn't stick around if they put you on the spot like that, right? So don't do it to them.
You never want to make the salon owner feel cornered.
Even if you are a renter, professional courtesy is expected and necessary.
I don't care if your salon owner is the most unprofessional bitch on the planet, be the bigger person. Always.
Show the salon owner what you've found and always assume that their errors were exactly that–errors.
Again, this is not an attack and you should never make the salon owner feel as if you're attacking them or berating them. You are educating the owner. You are sharing knowledge. This information may be entirely new to them. Operate under that assumption and keep the dialogue civil.
Your attitude needs to be, "This is what I've learned and I thought it was really important to share with you. I'd really like to see some changes made because ____. I have some ideas about how we can do this together."
Show appreciation.
Point out the things you love about the place you work, how much you appreciate everything the owner does, and make it clear that you just want to ensure the salon is in compliance. Have strategy solutions prepared.
This meeting shouldn't be all negative.
You need to tell the salon owner the things she's doing right–the things that are motivating you to show up every day. You could have abandoned her ship and left her to sink or swim on her own. Instead, you want to work with her and help her business thrive. That shows integrity and loyalty–two qualities that aren't easy to find in this business.
Present solutions.
Don't just dump a bunch of information in the owner's lap and expect them to know what to do from there. I don't know about other business owners, but I absolutely hate people who bring up complaints but have no corrective solutions in mind.
If you have spent time and energy coming up with a legitimate complaint, you better have spent some time and energy coming up with at least two ways to rectify it.
…otherwise you have wasted my time and aggravated me with your laziness. (I don't know about your boss, but I'm not a nice person when I'm displeased.)
Even if the owner doesn't want your help, you should at least offer. If you have time to research what she's doing wrong, you have time to research how to make it right. Taking that extra step displays initiative, motivation, great teamwork, and a positive attitude. It shows that you're invested in the business. Any business owner who doesn't appreciate a staff member who offers solutions or constructive criticism needs to reevaluate themselves immediately.
Call bullshit when necessary.
If the salon owner claims her improper business practices were advised by or endorsed by an attorney or accountant, ask for that professional's contact information. Do not be surprised if the owner gets defensive or argumentative. You'll usually see that with salon owners who knew damn well they were doing something illegal.
Clueless owners and intentionally abusive owners seem to exist in nearly equal number.
A clueless owner with good intentions is more likely to respond with wide eyes, a dropped jaw, and the common panic, "Oh my god! I had no idea! What do I do?!" An intentionally exploitative owner is more likely to get hostile, defensive, and sometimes even verbally abusive. You'll see narrowed eyes, pursed lips, crossed arms, and hear the extremely common, "My lawyer said this was just fine and I'm going to do what he suggests. Are you calling my attorney a liar?" or "My accountant says it's legal." Intentionally exploitative owners have no desire to correct their practices and won't even bother to look at the information you've brought to present to them. Those are big red flags.
For the record, no attorney is going to endorse a contract or practice that violates federal or state laws. If the salon owner claims her clearly illegal business practice was advised by her attorney, she is very likely lying to your face.
If the owner tries to intimidate you or throw you off your game by putting words into her "attorney's" mouth, immediately ask for that attorney's contact information so you can verify that claim. If she hands you a name and number, Google it to make sure the "attorney" is actually an attorney. (No lie, I have heard of owners having their clients or friends pose as legal counsel to intimidate staff members into accepting their bullshit employment conditions. That level of insanity should not surprise you. If your owner is desperate enough to knowingly break the law, the odds are pretty good that she's willing to recruit a friend to pose as a legal representative to cover her ass.)
If you plan on giving an ultimatum, be prepared to follow through.
Expect the best but prepare for the worst. Think about what you will do if the salon owner refuses to address your concerns. If these are issues with completely legal business policies that you don't agree with to the point that you're willing to leave, have your two week notice prepared and a new salon ready to take you in. If these are issues pertaining to illegal labor practices that you plan to take action on if the owner refuses to rectify them, explain to her that you will be reporting it.
If you speak it with your mouth, be prepared to act on it. If you're just going to make empty threats, save your breath.
This is very important. Prepare for the owner to turn hostile. Prepare to be terminated. Be ready to follow through if your issues aren't addressed.
Don't embarrass yourself or your profession. Walk your talk.
---
The only way we can change things is if we each do our part. Your part may be as small as filing an SS-8 with the IRS and having an exploitative salon owner audited so they can never do to others what they've done to you.
I often get asked why we don't have a union. The truth is, a union would be great. It really would, but we don't need one. We can do this together. We just have to make a decision as a united force that we will not accept these employment practices any longer.
This post was originally published in 2010, when salons with ethical employment practices were nonexistent. Now, salons across the country are using their ethical employment practices as a selling point to attract talented, savvy professionals and socially conscious clients. It took seven years to see the change happen, but now salon owners are left with no choice but to change the way they do business and the way they treat their professionals.
We've made a modest degree of progress and things are continuing to change, but the industry isn't perfect yet. We need to continue to hold employers accountable for employee abuses and labor law violations. We need to continue to hold salon landlords accountable for trampling on the rights of their renters. We need to continue educating incoming professionals, salon owners, and our coworkers, so they can do their part also.
Letting business owners commit crimes against us and walk away from it without penalty is like saying that their behavior is acceptable.
It isn't. We're better than that.
Keep up the great work. Maybe by 2020, ethical employment practices will become the industry standard.
---
Salon compensation systems can get a bit confusing. Nothing is more important than knowing your rights and tracking your income to ensure you're being paid every penny of what you're owed for the work that you do. The Salon Employee Suitcase makes income tracking simple, no matter how complicated your employer's compensation structure is.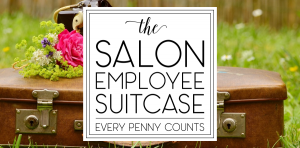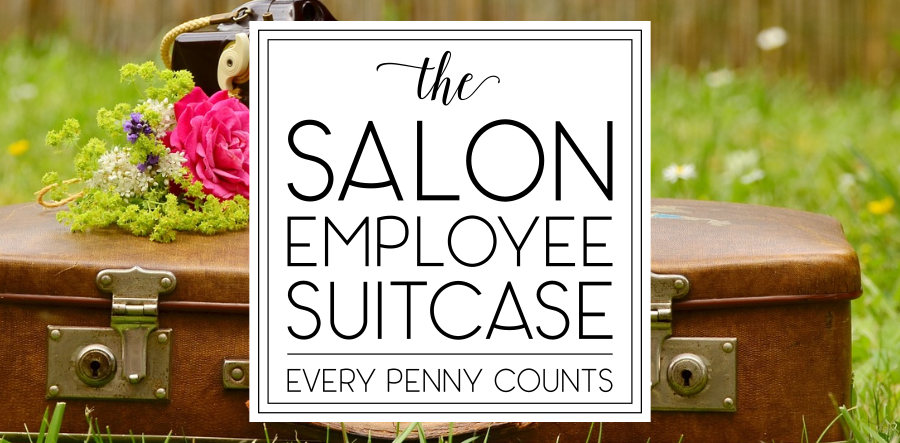 $14.99Add to cart