I'm sure this post is going to cause a war between salon owners and salon employees, but these things need to be said. These are my opinions and I'm sure a lot of people (mostly salon owners) will disagree with me, but the way this industry is run is a complete joke.
In no other industry are employees expected to "sit and wait" without compensation. In no other industry are those same employees (who are not being paid hourly) expected to perform cleaning or reception duties. This needs to stop and the only way to stop it is for the staff to refuse to accept those employment terms and for owners to step up and run their businesses appropriately. If you disagree, feel free to email me or comment below and we'll have a discussion about it.
---
Currently, the "standard" compensation method in many salons is "commission-only." Some weeks, your paycheck (when averaged against the hours you've worked) may end up far less than minimum wage and some weeks you'll make considerably more than minimum wage. In either case, in most salons, you're expected to sit around in empty salons, do laundry, clean floors, answer phones, and perform a whole litany of other menial tasks that fall far outside your job description as a nail technician or hair stylist–tasks you may not be getting compensated to do.
stop working for free.
This is an industry, not a charity.
Most American workers are covered by the FLSA (the Fair Labor Standards Act), which is enforced by the Wage and Hour Division of the U.S. Department of Labor. The FLSA dictates that if you are a commission-only employee, your paycheck (when averaged into hourly pay for a two week pay period) must equal or exceed the prevailing minimum wage. If it doesn't, the employer must make up the difference. Commission-based employees are also entitled to overtime pay.
Salons are not exempted from federal labor laws. The FLSA classifies salons as "retail and service establishments."
"Retail and service establishments are defined as establishments, 75% of whose annual dollar volume of sales of goods or services (or of both) is not for resale and is recognized as retail sales or services in the particular industry."
As a "retail and service establishment," salons can be considered exempt from federal overtime pay requirements if all three conditions are met:
1.) the employee must be employed by a retail or service establishment, and
2.) the employee's regular rate of pay must exceed one and one-half times the applicable minimum wage for every hour worked in a workweek in which overtime hours are worked, and
3.) more than half the employee's total earnings in a representative period must consist of commissions.
Unless all three conditions are met, the Section 7(i) exemption is not applicable, and overtime premium pay must be paid for all hours worked over 40 in a workweek at time and one-half the regular rate of pay. Tips paid to service employees by customers may never be considered commissions for the purposes of the exemption.
The FLSA doesn't care what you're doing at work. If you're there at the request of your boss, you need to be getting compensated. If your employer requires you to sit in the salon and wait for business, they should be paying you. Whether you're folding towels or playing Candy Crush on your iPad, you're being "engaged to wait."
"Generally, the facts may show that the employee was engaged to wait (which is work time) or the facts may show that the employee was waiting to be engaged (which is not work time). For example, a secretary who reads a book while waiting for dictation or a fireman who plays checkers while waiting for an alarm is working during such periods of inactivity. These employees have been engaged to wait."
Too many of you are being treated as servants. You're told that you have to "pitch in" and "do your share" and "be part of the team." It is one thing to clean up after yourself and help out your coworkers, it is an entirely different thing to work for free.
You are skilled.
You are licensed.
Your time is valuable.
The problem with the "commission only" compensation model is that it doesn't motivate the employer to ensure the employees are busy.
It costs an owner nothing to fill a salon with bodies and tell them to "sit and wait." I know of salon owners who have never paid for reception services or cleaning services. Why would they when they can order their stylists do it for free? Some salon owners have even gone so far as to intentionally sabotage an employee's books so they'll be available to run the front desk, assist, or clean.
These owners will keep their salons full of employees because they aren't paying anyone hourly. It doesn't matter to them that each of their workers is barely making enough money to pay their mortgages because the owners are simply collecting income from them. There's no risk of loss involved, so they hire indiscriminately.
salon Owners: Just because you have twelve stations does not mean that you have enough business to support twelve stylists.
What happens if we throw in "payday pressure?" What will happen if we tell this same owner that if her stylists don't make at least minimum wage in commission income for each hour they're on the clock that she will have to make up the difference in their paychecks? What is that owner going to do? She's going to cut hours (or perhaps let a few workers go) and ramp up her advertising to ensure that she's making enough money to cover payroll and overhead, otherwise she will go out of business.
Prevailing wage requirements effectively light fires under the asses of employers and motivates them to ensure that each worker is generating enough money to support their wages.
The same owner sure as hell isn't going to tell a room full of hourly employees to sit around and "wait for clients" if she's going to be responsible for paying each of them $10.50 an hour at the end of the pay period. It's no mystery why our local markets are so flooded with salons, is it? Do you think even half of these places would be open if they were guaranteeing their employees wages? I don't. Good riddance to bad management.
I've consulted for dozens of salons where the owners have hired far more professionals than they needed. The place would be full of employees who spend every day sitting around, waiting to build their book–yet, the owner still hires until all the empty stations are full. Everyone in the salon is unhappy. The senior stylists and techs are frustrated because they haven't built yet and are having to share the limited walk-in business with several new people. Every commission-based employee knows that a new stylist often means a pay cut for everyone in the salon.
Do not offer people a "job" if you cannot guarantee them a paycheck they can survive on.
Smart owners start small and commit to reasonable expansion. Smart owners don't add new employees until they can afford them. As an owner, you need to be mindful of the welfare of your employees. Their livelihood is your responsibility. You need to be an equal partner in their success and ensure your employees are busy and profitable or you will forever struggle with turnover.
"But I can't afford to pay my workers an hourly rate!" If you can't afford to pay your employees, you should never have opened a business to begin with. Your management skills are severely deficient. I've managed six salons over the course of my career and have consulted for more than I can count. In each of them, we've been more than capable of balancing our overhead expenses and service pricing to design compliant compensation systems that motivate and properly award our employees for superior performance. If you can't do the same, you would be better off renting your stations out and letting the booth renters fend for themselves–at least that way they'll only have themselves to blame if they fail.
If you have to resort to misclassification, wage theft, and other FLSA violations and are still struggling to break-even, you were in no way prepared for business ownership.
If you want to be a business owner, take ownership of your business.
You cannot point the finger at your team and blame them for their lack of income. You are the captain of the ship. Your leadership determines whether or not the salon succeeds. Every salon has an employee or two who consistently under-performs due to their own inabilities, but if every single one of your team members are floundering, the problem is with you; not them. You are failing them as a leader and you're failing your business.
One business owner I consulted for actually had the nerve to tell me that the financial welfare of her employees wasn't her "problem." It is absolutely your problem. If your employees aren't making money, they are not going to stay at your business, and employee turnover is far more costly than many salon owners realize.
Every employee you lose will cost your business clients.
Money is a motivator. Guaranteeing your employees hourly pay is the only effective way to motivate them to do the salon bitchwork that needs to be done. In no other industry will you find employees willing to do laundry, cleaning, and reception for no compensation. Your "commission-only" stylists, technicians, and therapists are paid for the work they do on the clients. They're paid for doing nails, hair, skincare, and massage. They earn the money they make during the performance of that service. Past that point, if you're not guaranteeing them a livable income, they're generally not required to do anything additional.
No worker owes you a goddamn thing if they're not classified or compensated in accordance with applicable laws. However, if you're paying your workers properly and classifying them as employees, the actually do have an obligation to obey–they have to do what they're told or forfeit their position.
Salon professionals, quit accepting this treatment. Lay out what you will and won't accept from the owner at the first meeting. If the owner has stylists sitting around and doing nothing, you aren't getting a "job offer," you're being offered an opportunity to sit around her business for free and "maybe" make money for her.
In order for a Job offer to be a legitimate job offer, there needs to be some promise of income–some actual JOB to be done.
Let the owner know that you have bills to pay. If they don't have enough traffic to ensure that you'll be receiving a solid paycheck, you aren't interested.
This isn't to say that you should rely entirely on the owner for your success. This road goes both ways. The owner's job is to make sure that the salon is well-advertised and well-managed so that clients are coming in the door and her staff are making money (so the business stays open). Your job is to maintain the clientele that you gain as a result of your employment, ensuring that they leave happy and eventually return.
Let the owner know that you're happy to do your job if she's doing hers. You'll sit around all day every day–you'll do towels, you'll answer phones, you'll sweep hair, you'll even go on coffee runs, as long as she understands that you expect to be paid for your time. How can any salon professional reconcile the fact that even unskilled, entry-level employees are being paid, but you aren't? If your bag boy at the grocery store and your cashier at McDonald's are being paid to be present, why the hell shouldn't you be?
If you are "engaged to wait," your employer needs to be compensating you.
Almost everyone who contacts me asks, "How come we don't have a union to protect our rights?" We don't need a union. We're big girls, we can do this ourselves.
For as long as you allow yourselves to be victims, you will be victims.
You are not a servant or a slave. You deserve to be paid for your time. Demand more for yourselves. This is a career–not a hobby–so treat it like one.
---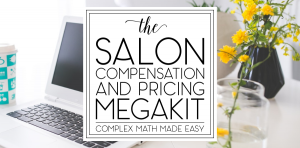 The Salon Compensation and Pricing Megakit calculates salon compensation and service pricing for you! It includes:
The Salon Compensation and Pricing Calculator, an 8-page spreadsheet system that makes salon compensation and pricing calculation as simple as data entry. The best part? The system is enabled with protections to make it impossible to "break" the formulas!
The Salon Compensation and Pricing Guide, a 44-page instruction manual that not only explains how to use the system but also explains every formula so you're never confused about what the numbers mean or where they came from.
A 9-page Employer Obligations Information Sheet to keep you from making very common life-destroying mistakes.
Be Worth What You Charge, an 11-page checklist and salon evaluation resource.

$89.99Add to cart
---
This post was originally published on October 4, 2013.
If you want to subscribe to these articles, add our feed to your preferred feedreader app, subscribe via email using the form in the sidebar, or Like This Ugly Beauty Business on Facebook(make sure you enable notifications or you'll miss stuff).