Love, loyalty, and respect–we're not talking about marriage, but in a lot of ways, your relationship with your employees can be compared to one. Maintaining a great relationships with your employees takes work, patience, understanding, and above all, great communication. Employee happiness is all about empowerment; appreciation, involvement, and respect facilitate that.
Employee turnover is expensive.
In the salon, unhappy employees mutiny and nearly every employee loss equates to a loss in clientele. No salon owner can afford that when keeping employees loyal is so simple. Here are some quick tips to help you eliminate that turnover, inspire joy and trust, and keep your professionals happy to work for you.
1.) Classify and compensate your employees appropriately. Do you have to hand them a $1 billion dollar annual salary and turn over your first-born son to them? Absolutely not.
Understand that there's a difference between being fair and being stupidly generous.
Classifying your employees properly and adhering to the same standards every employer must adhere to requires you to walk away from traditional salon compensation models that don't serve the business. As an employer, you're only required to meet the prevailing wage (state or federal minimum, whichever is higher). Set an hourly base pay for your professionals and offer commission bonuses based on their performance. This system protects you from employment investigations and audits by ensuring your compliance with the minimum wage legislation and allows your business to actually generate a profit, which can then be reinvested into the business for the benefit of your employees.
Restructure your pricing to accommodate your overhead. Drop the "product charges," "head fees," and any other questionably legal practices you're currently utilizing to widen your profit margin.
Pay your portion of your employment tax responsibility.
Money does not matter to an employee as much as any of the following factors do. High wages are nice, but they are not the key to employee retention.
Keeping your employees is as easy as showing appreciation and being honest.
---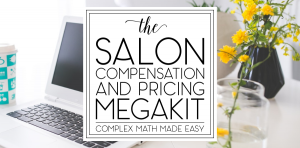 The Salon Compensation and Pricing Megakit calculates salon compensation and service pricing for you! It includes:
The Salon Compensation and Pricing Calculator, an 8-page spreadsheet system that makes salon compensation and pricing calculation as simple as data entry. The best part? The system is enabled with protections to make it impossible to "break" the formulas!
The Salon Compensation and Pricing Guide, a 44-page instruction manual that not only explains how to use the system but also explains every formula so you're never confused about what the numbers mean or where they came from.
A 9-page Employer Obligations Information Sheet to keep you from making very common life-destroying mistakes.
Be Worth What You Charge, an 11-page checklist and salon evaluation resource.

$89.99Add to cart
---
2.) Be transparent. Salon owners are often questioned by their employees regarding their financial management practices. An owner I managed for dealt with these issues constantly and asked me what we should do to "put the workers their place." I said, "Instead of 'putting them in their place,' elevate them and involve them. Show them the financials. Ask for their input."
At the next staff meeting, that's what we did. I laid the budget out and showed them where every dime was going and why. It worked out so well that I made it part of my regular management practices.
Employee who question you don't trust you.
Don't blame them for this lack of trust; it's hard to gain trust in a business like this. Employment abuses are rampant in this industry and if you have professionals working on any kind of commission structure, you're going to have your judgement called into question at some point. Keep them informed.
In my experience, full transparency has been incredibly beneficial for a number of reasons:
Showing the employees the budget and the bills gives them a better understanding of what salon ownership actually entails. Many of them don't have any experience in ownership or management, so they can't appreciate how difficult or expensive it really is.
Showing employees you have nothing to hide goes a long way in building trust with them.
Getting your team involved and making them participants in the business itself pays off. They might bring innovative new ideas to the table you would never have considered.
Including them makes them feel like active participants in the business they work for, instead of your hired underlings.
Overall, this is a judgement call. I've heard convincing arguments against transparency, but I find that the benefits more than justify the few negatives and thus far, my experiences (and those of my consulting clients) have always been productive and positive.
3.) Make your employees active participants in the business. We briefly touched on this earlier, but it deserves its own point.
Let everyone in the salon know they have a voice.
Get your professionals involved on a higher level. Ask for their input. Make the salon's goals their goals and the salon's successes their successes.
When it's time to develop holiday services, get their suggestions. If you're unsure what course of action to take regarding a potential promotional event, ask them for their opinions.
Every single meeting, ask the question, "What could we be doing better?"
Remember, you're the ultimate authority, but that doesn't mean you can't take their thoughts and concerns into consideration.
It takes your entire team to ensure salon success—don't feel like you have to go it alone. Bring the employees in to become a part of your "big picture." Work towards goals together.
Employees don't work for you, they work with you.
When the salon succeeds, everyone succeeds and everyone's contribution to that success gets celebrated. If the salon is struggling, present that to them and ask for suggestions on how to correct the problem.
4.) Conduct regular continuing education classes. These classes can be held at your convenience, taught by your own professionals, and as formal or informal as you like.
Have your employees suggest and vote on topics. Offer incentives (like a temporary commission bonus or gift certificates) to employees willing to teach. Create your own certificates for each class completed. If your salon utilizes the level system, make completion of these courses mandatory for advancement to the next tier.
You really don't have to take these classes too seriously or stress yourself out about them. Periodically, I would assign a class to a newer professional for fun. Your chosen instructor doesn't have to be an expert in the subject they're teaching.
Let the employees laugh and learn as they experiment with new techniques together.
5.) Create traditions. Give your professionals fun events to look forward to. Your options here are limitless, but I highly recommend informal technical competitions and portfolio-building photoshoots. Hosting fun technical competitions is a great way to encourage your staff to step outside their comfort zone and create.
6.) Communicate. The most successful salons encourage their employees to bond through social events outside of the salon. Periodically arranging an informal dinner is a great way to strengthen their relationships.
Your staff should be a team—not a group of strangers working under the same roof.
Interaction and involvement outside the salon promotes better communication and boosts morale.
7.) Appreciate everything, every day–vocally. This is the easiest, cheapest, and most effective thing you can do to encourage employee loyalty and keep them happy. Employees who feel appreciated and receive regular acknowledgement for their hard work remain loyal to that employer, even if they are being paid less than they would be at another business. That appreciation goes so much further than salon owners realize.
It is critical that you take time out of your day to thank your employees for what they're doing right.
When a professional does a great job on a service, tell them that. If they show initiative, express gratitude. During monthly meetings, deliver praise before you get around to the constructive criticisms. In addition to these daily reminders, reward their hard work sporadically with random gifts. For example, if your team really exceeds their performance goals in a particular month, give each of them a thank you card and a gift card. (I know gift cards are a bit impersonal, but if you know your staff well, pick retailers you think they're likely to shop with.)
Perform routine informal evaluations with heavy emphasis on the positive.
Do these sporadically without informing your employees. I would do evaluations silently and put them into envelopes on payday. Paper evaluations are important. Give them tangible recognition from time to time.
Making these evaluations a two-way street is also helpful for you. Ask your team to evaluate you so you can learn how to do your job better. Management requires constant evolution. What works for you in January might not be working in August.
Don't stagnate—ask for feedback.
8.) Give positive reinforcement in negative situations. If you're one of those owners who charges employees for "redos," stop immediately. This practice is ineffective, ethically and legally questionable, and not serving you or your employees.
Instead, remind employees that they're human—we all make mistakes.
A conscientious professional will likely berate themselves enough; don't add to that by imposing a fine or laying on more verbal abuse. Evaluate where the service went wrong and work with that employee to ensure it never happens again. If intentional negligence or laziness continue to be a problem, that's when you consider whether or not that employee is a good fit for the business, but until then, use these mistakes as opportunities to help them grow professionally.
Be gracious, patient, and forgiving.
Model the behavior expect from them. One day, you will do something wrong you will likely feel terrible about. Treat them the way you'd want to be treated in the same situation, and you'll be glad you did when you're the one under fire.
9.) Check yourself before you wreck yourself. Your attitude will dictate the attitude of your employees. The way you talk to them, the way you treat clients, and the way you present yourself will all be reflected in their own behaviors.
Bad attitudes and bad habits are contagious.
Show up to work looking sharp. Stay positive. Don't sweat the small stuff and view the "big stuff" as opportunities–not obstacles. Keep smiling and treat your professionals like the assets they are.
10.) Create a culture and brand passion will follow. What do Aveda, Paul Mitchell, and Redken salons have in common? They've cultivated a strong salon culture. They share a philosophy that their employees believe in and live by. They've set standards for excellence that their staff continually strive to achieve. This passion spreads to the clients of the establishment. The role a salon's culture plays in securing employee loyalty can't be underestimated.
Get your employees passionate about the salon's philosophy and mission. Your mission and philosophy should be clearly written and visible to them. Brand their uniforms with your salon's logo and tagline.
Make your employees feel like they're an important part of something exclusive and amazing—because they are.
---
What do you think? Have you developed strategies for salon employee retention that worked for you? Have you been an employee of a salon owner or manger who knew exactly how to keep you and your coworkers happy? Let us know in the comments!