As unfair as it is, ignorance of the law is not a valid defense. There are good reasons for that, the primary one being that if ignorance were a valid defense every person accused of a crime would use it, whether or not that claim were true.
Should an investigation into your labor practices be initiated, you cannot point at the salon owners around you and say, "Well, they did it that way! This is the way it has always been done!"
Exploitation of workers should not be customary in any industry.
In my favorite blog post of the month, "It Must Be OK – Everybody Does It!" John E. Thompson of the law firm Fisher & Phillips reinforces this lesson. He writes:
It is tempting to take comfort in platitudes like, "The whole industry pays employees that way," "Everybody I know of treats those positions as exempt," "All of my competitors classify these kinds of workers as independent contractors," "Nobody includes bonuses in figuring overtime," and so on.
It is legally perilous to pay employees based upon what are thought to be commonly-held views, instead of looking into what the legal requirements and limitations actually are.
Ultimately, the burden is on the employer to educate themselves and ensure they're in compliance. Laws change frequently, so it's in your best interest to keep an eye on them. You won't receive memos about these kinds of things, and you're expected to comply not just with federal legislation, but state and even city/county laws also.
FLSA litigation is on the rise, and Thompson notes that this is a relatively recent phenomenon. However, just because claims of exploitation are on the rise doesn't mean that these violations were always permissible. Claims are just receiving more visibility. For that, we have very vocal unions, activists, protesters, and bloggers to thank–and the aggressive efforts of state and federal governments to curb exploitation.
Exacerbating our industry's issues are accountants, salon "business consulting firms," and attorneys who operate outside their scope, providing employers with faulty, misleading, or poorly clarified advice. I consult with salon owners often who tell me they've been led astray by these professionals. Educators within our own industry continue to perpetuate false information, adding legitimacy to longstanding, illegal practices.
Stop hiding behind the excuse that "everybody does it." Everybody certainly does not.
Look to corporate salons–businesses which have teams of attorneys structuring their compensation and guiding their HR departments. Regis Corp and JCP salons, for example. Are any of them operating on a "commission-only" all-or-nothing structure? Are they classifying their employees as independent contractors? Are they not tracking hours or failing to provide detailed wage statements? Are they refusing to compensate employees for attending mandatory meetings or training? Are they deducting arbitrary fees from wages? Are they "fining" their employees for tardiness or re-dos? Are they encouraging their employees not to report their tips or requiring them to purchase their own products?
Nope. They're not. Maybe they know something you don't know–like the laws that govern American employers.
Do yourself a favor and please go read this article and add the Wage-Hour feed to your subscriptions.
I've updated the About page to include all of the law blogs and podcasts I subscribe to, but I encourage you to also seek out ones specific to your area. Attorneys are posting extremely valuable information that costs you nothing to access. Take advantage of it.
---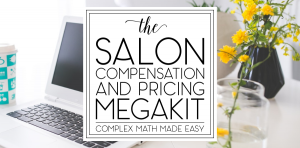 The Salon Compensation and Pricing Megakit calculates salon compensation and service pricing for you! It includes:
The Salon Compensation and Pricing Calculator, an 8-page spreadsheet system that makes salon compensation and pricing calculation as simple as data entry. The best part? The system is enabled with protections to make it impossible to "break" the formulas!
The Salon Compensation and Pricing Guide, a 44-page instruction manual that not only explains how to use the system but also explains every formula so you're never confused about what the numbers mean or where they came from.
A 9-page Employer Obligations Information Sheet to keep you from making very common life-destroying mistakes.
Be Worth What You Charge, an 11-page checklist and salon evaluation resource.
$89.99Add to cart
---