This post is a very condensed version of The Salon Service Pricing Toolkit, which includes:
a 28-page Salon Service Pricing Guide that will walk you through my step-by-step process for calculating service prices,
a 6-sheet Salon Service Pricing Spreadsheet that will do all the complex math so you don't have to, enabled with protections to make it impossible for you to "break" the formulas,
a 9-page Employer Obligations Information Sheet to keep you from making very common life-destroying mistakes,
a Glossary to serve as a handy reference so you'll never be confused about what a particular term means, and
a comprehensive, 11-page Salon Assessment Checklist that will help you determine once and for all whether your salon is truly "upscale" (Spoiler Alert: it very likely isn't, and that's okay.)

$29.99Add to cart
Get the Salon Service Pricing Toolkit today and finally demystify the pricing process!
---
If you require a system that calculates pricing and compensation, check out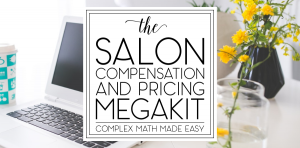 The Salon Compensation and Pricing Megakit! It includes:
The Salon Compensation and Pricing Calculator, an 8-page spreadsheet system that makes salon compensation and pricing calculation as simple as data entry. The best part? The system is enabled with protections to make it impossible to "break" the formulas!
The Salon Compensation and Pricing Guide, a 44-page instruction manual that not only explains how to use the system but also explains every formula so you're never confused about what the numbers mean or where they came from.
A 9-page Employer Obligations Information Sheet to keep you from making very common life-destroying mistakes.
Be Worth What You Charge, an 11-page checklist and salon evaluation resource.

$89.99Add to cart
---
"How do I set my prices?"
When it comes to calculating your prices, first understand that you don't do any of this idiocy:
pull numbers out of thin air
guess based on what you think your services are worth
copy numbers off your competitor's brochures and tweak them until they "seem right"
Step 1: Total Annual Operating Hours
This part's easy. If you're open from 9am-6pm, six days per week, that comes to 54 hours per week. Multiply that by 52 weeks in the year. That's 2,808 operating hours. Subtract holidays the salon is closed for–New Years Day, Labor Day, Thanksgiving, Christmas, whatever. The number you end up with is your total annual operating hours.
Step 2: Annual Operating Expense
Total your annual and monthly expenses until you come up with a number that reflects your annual cost of doing business. Include everything from your rent to the cost of your business cards. Every penny you spend on the business must be included.
The estimated annual wages for support staff must be included as a fixed overhead cost. Support employees are people who work for the salon, but don't perform services on clients (receptionists, assistants, cleaning staff, valets, etc.).
Whether you include labor costs for the salon professionals now (as a fixed annual overhead expense like the support staff wages) or add it later (by breaking it down into each employee's minutely rate and multiplying it by the service execution time), it must be included at some point, so don't forget it.
(Sidenote: In case you somehow weren't aware, if your workers aren't booth renters, federal law requires you to pay your employees at least the prevailing minimum wage and you're required to contribute to their employment tax. I don't care what your previous employer did or what your friend's sister's cousin who is "sort of a divorce attorney or a paralegal or something" told you. Them's the laws, salon owners. Just because "everybody else does it" illegally doesn't mean you can too.)
Don't forget to add your salary and a profit margin.
Step 3: Operating Cost-Per-Minute
The number you end up with at the end of this step is the amount the salon will have to generate each operating minute to meet the expenses you've included in the annual operating expense assessment. There are different ways to do this. The method I use depends highly on the salon, but I recommend dividing your annual overhead expense down by your annual operating hours, and dividing it again into a minutely figure.
The Salon Service Pricing Toolkit does this automatically.
Step 4: Labor Cost Per Minute
This formula calculates the cost of a single service providing employee's minutely wages only. Because of that, this method doesn't account for that employee's downtime or the cost of any additional idle employees, so adjustments are necessary to account for fluctuating labor expenses.
Let's say you want to pay your employees a base hourly wage of $12. Inflate that by 8% (7.65% rounded up—to account for federal employment tax), whatever the emp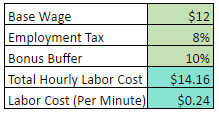 loyer's portion of your state employment tax is (rounded up to the nearest whole percent), and whatever percentage you consider necessary to help offset any commission bonuses you plan on offering.
Total those figures to an hourly labor expense and divide it by 60 minutes to get your labor cost per minute. In the example above, a single employee costs you $0.24 per minute. Be mindful of your bonuses, though. If you're offering a compensation system that rewards performance with commissions, you'll have to do some complicated math to account for those bonuses. I recommend hiring someone who specializes in compensation structuring, because that's a series of formulas I definitely won't be sharing. (The odds of someone who lacks experience with math and/or Excel screwing up their calculations is just too high, so I don't feel comfortable putting together a toolkit for that—at least not until I find a way to make it stupid-proof.)
Step 5: Protocols and Cost-Per-Service
Detail your services, the time it takes to complete them, and the itemized cost of products/disposables for each service (CPS). Be exact here. Every cost must be accounted for to ensure accuracy. All those costs have to be deferred to the clients enjoying the services.
Step 6: Baseline Service Prices
By now, you have your operational costs and labor costs broken down into a minutely figure (whether you bundled them or not), your service execution times, and your CPS.
Go through your list of services. Import your known costs and calculate the total, multiplying your minutely rate with the service execution time (in minutes). Add your CPS. The result is your base price.
Step 7: Evaluate Your Salon and Your Services
Be honest with yourself. If your salon isn't "upscale," don't try to pull off "upscale" prices. Basic math determines your base prices, but your management determines how much inflation you can apply to those base prices.
How do I determine whether a salon can justify higher prices than its competitors? The Salon Service Pricing Toolkit includes a Salon Assessment Checklist that will allow you to determine if your salon is truly "upscale," or simply a professional beauty salon. Don't fool yourself, "upscale" salons are extremely few and far between and yours likely isn't.
Your services will also have to be evaluated individually. Which services are so exclusive, so convenient, and so spectacularly popular that they can justify a price hike? The Salon Service Pricing Toolkit also includes a list of factors you have to consider when determining the more subjective aspects of your service prices, but most of us who have worked in this industry for a while know how to do this instinctively. (However, if you're not great at assessing the value of your services and tend to under-price, you may benefit from the information I included in the Toolkit.)
Step 8: Test Your Prices
Start testing prices and evaluating the salon's profit and loss. Remember, you included your salary and payroll when you calculated your annual operating expenses and your minutely direct labor costs, so it's okay for some services to have less-than impressive profits. (However, the more money you can make, the better. Additional income never hurt any business.)
Spreadsheets are invaluable for this testing process. If you try to pen and paper these calculations, you'll drive yourself insane.
Step 9: Add Profit Margin
Add margins on a per-service basis by inflating your prices by the your chosen margin. If you've separated the cost of your product, your labor, and your overhead, you can use the spreadsheets in The Service Pricing Toolkit to automatically adjust each cost by different percentages to make up for fluctuating labor costs and overhead expenses, ensuring your costs are covered and you've provided for a healthy buffer against downtime. (For example, you can inflate product costs by 10-15%, labor costs by 35%, and overhead expenses by 30%. This allows for more flexibility. If your salon has a wealth of performance data to draw from, you already know your retention and productivity, so if you wanted, you could reduce the margin on your labor costs to keep your prices competitive, passing those savings on to your clients.)
Step 10: Analyze Your Local Economy and Target Demographic
Can people in your town afford your prices? If not, can you lower overhead somehow or edit your service protocols so they're more efficient?
IF YOU CAN'T MAKE YOUR NUMBERS PALATABLE FOR YOUR CUSTOMER BASE, YOUR SALON WILL FAIL.
When the math doesn't work, it doesn't work. Innovate, find an alternative, cut your expenses, or find a new market. Juggle your numbers until they make sense and add up to a worthwhile venture.
Step 11: Manage
It's not enough to work your numbers. For your math to add up to a profit at the end of the year, you have to actively manage the business.
THE SALON WILL NOT RUN ITSELF.
Salons that lack management flounder and eventually fail. You can take my word for it or learn the hard way, but don't say I didn't warn you. You'll only reap the rewards of salon ownership if you take ownership of your salon, so do your damn job. Remember, you're on the payroll too. Earn your wages and your profit.
---
I hope you found this post informative and useful. This post is a much, much shorter version of The Salon Service Pricing Guide (found in The Salon Service Pricing Toolkit), which is a simplified version of an entire chapter from my forthcoming book, Salon Ownership and Management: The Definitive Guide to the Professional Beauty Business.
When will it be released? Who the hell knows. Every time I think I'm done writing in it, I add another section and twenty more chapters. At this point, I'm shooting for November 2017. It's massive. (My current draft is 130,000 words, and I'm nowhere near finished writing.) Update: the book was officially released November 1st, 2018 and is available on our store and on Amazon. Get it now!
In the meantime, you can read my first first book, The Beauty Industry Survival Guide, subscribe to my newsletter, follow this blog on Facebook, or book an appointment and pay me to provide my limitless knowledge and sarcastic wit.
Periodically I conduct webinars, so if you're interested in receiving top notch education without changing out of your pajamas, check in from time to time for upcoming events. (Notifications are also sent out through The Newsletter and on Facebook.)