If you're guilty of any of the following behaviors, odds are pretty good that you're having a hard time keeping professionals on staff–and you have nobody to blame but yourself.
Salon professionals are notoriously difficult to tie down for a wide variety of reasons. Some of those reasons have to do with some of those professionals being flaky, capricious, or simply incompatible with your salon's culture. Many beauty workers are intensely independent and/or too ambitious to remain employed for very long. Their reasons for resigning typically aren't preventable and have nothing to do with you.
Wait–you didn't think this post was going to be about how wonderful and blameless you are, did you? Because it's not. To stop employee overturn, you have to be willing to take a good look at yourself and your behaviors.
If your salon is plagued with chronic employee overturn, you are likely the problem.
Here are ten behaviors that repel quality talent from your salon. The sooner you accept the possibility that you are the reason employees don't stay, the sooner you can diagnose and fix the issue.
---
You're disrespectful.
You snap at employees in front of clients and threaten their jobs when they displease you. You speak down to them and treat them as inferior. As a result, your employees see themselves as you see them—replaceable, dispensable, and unimportant. They receive no respect from you, so expect no loyalty from them.
You're incapable of apologizing or showing remorse.
You're not infallible. You screw up too, and when you do, your employees notice. Not only do they notice, they take note of how you conduct yourself. Set a good example and start admitting your mistakes, apologizing for them, and allowing your employees to see you as the flawed human being you are. Employees lose respect for people who can't or won't admit their mistakes and apologize for them.
You cannot lead or retain employees who don't respect you.
You're not supportive.
When an employee struggles to perfect a technique, are you at their side helping them develop their skills (or pairing them with a professional who can)? When they refuse to perform a service because it isn't in the client's best interest, do you endorse their decision? When a rude client or fellow employee disrespects them, are you there to put a stop to it?
If you don't support your employees, it won't be long before they take their skills elsewhere.
Your practices and policies suck.
Your employee handbook is 50 pages long and growing every week. You're posting notices of increasingly ridiculous workplace policies in the break room, and these policies are making everyone miserable. It's not what they signed up for and not something they're likely to tolerate for very long.
Operational changes shouldn't be made on a whim.
Think your solutions through carefully and ask your employees for their input. Frequent policy and procedure changes are confusing and frustrating, especially when they're "solving" problems that don't exist. Employees will lose patience with you and seek employment somewhere more stable and consistent.
You're a trainwreck.
Every day, a new disaster. You're disorganized, emotional, temperamental, and inconsistent. You exhaust, confuse, frustrate, and stress out your employees. They have no faith in your leadership because you just can't seem to get your shit together.
If you can't handle the stress of salon management, hire someone who can.
I have met many salon owners who were not cut out for business ownership. It isn't for everyone. Most of us went to beauty school, not business school. We chose our professions for a reason. If you're learning that you aren't wired to be a salon owner, that is perfectly fine. It doesn't mean you have to sell or close your salon–just hire someone who can do the job for you, so you can get behind the chair and go back to doing what you love.
You're a doormat.
You allow your employees to walk all over you. You don't know how to say no or to discipline your workers.
It's a free-for-all, and as a result, your salon is a nightmare workplace.
Workers are bullying other workers, chores aren't getting done, and workplace conditions are unacceptable for any self-respecting professional.
A functioning professional salon requires structure and discipline. You need policies and rules and those policies and rules need to be enforced consistently. Nothing drives away talent like a lack of strong leadership or a salon owner who plays favorites.
Your expectations don't match your compensation
You want it all, but you expect your workers to pay their own employment taxes and donate their time to you. How dare you expect anything when you give nothing?
Your employees are not volunteers. Nobody owes you anything.
Employees must be classified as such and compensated in accordance with the law, but you get what you pay for. Pay the bare minimum, expect the bare minimum. Pay nothing, expect nothing (especially loyalty).
---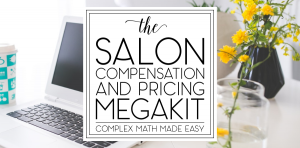 The Salon Compensation and Pricing Megakit calculates salon compensation and service pricing for you! It includes:
The Salon Compensation and Pricing Calculator, an 8-page spreadsheet system that makes salon compensation and pricing calculation as simple as data entry. The best part? The system is enabled with protections to make it impossible to "break" the formulas!
The Salon Compensation and Pricing Guide, a 44-page instruction manual that not only explains how to use the system but also explains every formula so you're never confused about what the numbers mean or where they came from.
A 9-page Employer Obligations Information Sheet to keep you from making very common life-destroying mistakes.
Be Worth What You Charge, an 11-page checklist and salon evaluation resource.
$89.99Add to cart
---
You're not communicative.
You expect your workers to read your mind. They don't find out about your preferences or expectations until they're in trouble for failing to meet them. You don't hold meetings or arrange one-on-one discussions to seek or deliver feedback, address issues, or discuss solutions. Their input never factors into your decisions because you never ask them for it.
Salon management isn't a solitary job.
Communicate often with your employees. Ask for their thoughts. Don't allow them to feel ignored. Never leave them in the dark or put them in a position where they have to make assumptions about what you expect of them.
You're not doing your job.
You're one of those salon owners who expects your business to run itself. You're either spending your time behind the chair, competing with your employees for business, or you're "out." Out where? Your employees don't know and they don't care. All they know is that you aren't where you need to be, doing what you need to be doing.
Or maybe you're one of those salon owners who acts like a fun coworker instead of a boss. You treat your employees like friends, allowing them to behave unprofessionally, violate policies, and commit other crimes against your business with impunity.
You can't be an effective manager and "the cool mom."
This "BFF management" may keep some people around (usually the wrong people), but ultimately, the business will suffer and so will the job satisfaction of your employees.
You're the salon owner. When you aren't doing your job:
Who is handling the marketing?
Who makes sure ads are being run in the most effective advertising outlets and who is tracking the return on those ads?
Who is forming and maintaining referral relationships with complementary local businesses?
Who is managing the inventory?
Who is keeping on top of product pricing and seeking more competitive vendors?
Who is keeping abreast of industry changes–new products, new technologies, and new techniques?
Who tracks and predicts shifts in the market and designs strategies to keep the salon relevant and necessary to its target demographic?
Who is calling clients every day to ask if they're happy with their service and their experience?
Who is reaching out to the new clients to welcome them personally and invite them to voice any questions or suggestions?
Who is monitoring the salon's performance and the performance of the individual employees?
Who is making sure everyone is doing their jobs?
Salons without management suffer in a wide variety of ways, from bleeding money on unproductive employees to falling behind competitors, but here are some specific examples:
If you are not marketing the salon or managing your ad budget strategically, new client acquisition will suffer and your marketing budget will be burned on ineffective methods. Can you afford to burn money?
If you are not reaching out to new and existing clients to ensure they're happy, client retention and the salon's reputation may suffer. The salon will lose customers and you probably won't notice for far longer than is acceptable. When you finally do notice, you won't know why (since many clients won't complain to you without an invitation). By then, it'll probably be too late to correct, as those clients will have long since moved on, leaving a trail of entirely preventable, scathing Yelp reviews in their wake.
If you are not tracking performance and making necessary adjustments, YOU ARE FLYING BLIND. Failing to monitor metrics doesn't cause problems, it makes it impossible for you to predict or quickly recognize existing problems and correct them.
Salon management is a full-time job.
Without dedicated management, at best a salon will stagnate. At worst, it will fail. When that happens, your "BFF" employees will (rightly) blame you and disappear.
You're unappreciative.
The words "thank you" rarely, if ever, cross your lips. Initiative isn't acknowledged, let alone appropriately rewarded, so your employees lose incentive to bother doing more than the bare minimum. Employees who don't feel recognized or appreciated resent their employers and will seek out other opportunities.
It's not enough to show gratitude for the big things.
Maybe you're diligent about thanking your staff for the big things, but are you thanking them daily for the little things too? Sure, folding towels is part of their job duties, but would it kill you to take a second out of your day to thank them for it? Of course you expect them to perform great artistry on the clients—after all, that's why you hired them—but why not stop them and tell them exactly what you admire about a look they've just pulled off?
Challenge yourself to sincerely thank your employees routinely.
A muttered "thanks" as you pass them by in the salon isn't enough. Stop them. Make eye contact. Smile. Tell them you appreciate their work.
Most people don't like to think about their rapidly waning time as a conscious being, but if nothing else in this article gets through to you, maybe this will—your employees have a limited amount of time to experience life. For all but the privileged few of us, work is a necessity. However, they could work anywhere they please. They are choosing to spend much of their limited lifetime in your business.
Really think about the gravity of that. Every second, the clock ticks closer to the second of our death, right? They chose your business.
Even if they don't recognize the significance of that choice, you should.
Don't be an asshole. Appreciate them.
---
Often, my job as a consultant requires me to hurt the feelings of others by confronting them with harsh truths. If this post affected you—good. I'm not sorry.
Progress isn't possible until you recognize your mistakes.
Take comfort in the fact that, while it may hurt to learn you're responsible for employees leaving, you have the power to change that instantaneously. This situation can be easily remedied. Now that you understand the root cause of the problem, you can control your behaviors and adjust your approach. Read this post to learn how to be a boss everyone wants to work for.