Self-employment isn't easy and anyone who told you otherwise was either lying or had the tools and knowledge necessary to pave the way for a smooth ride before they ventured out on their own.
What about you? Is your business plan fully developed? Do you know about your legal obligations? Have you worked out your budget?
Are you truly ready?
Before you quit your day job and start filing business registration papers, take a few minutes to evaluate this self-employment preparedness checklist.
---
Audio Version
---
Are you familiar with your rights, obligations, and potential liabilities?
Do you know what it means to be truly self-employed?
Is your business model legal in the state where you plan to operate? (On-location services tend not to be legal and mobile salons are typically heavily regulated.)
Will you require any special licenses to do business in your area? (For example, a sales and use tax certificate?)
Does your business require a fictitious name registration (DBA) or will you be better off forming an LLC?
Do you know how to file your estimated federal self-employment taxes quarterly or will you require the services of a CPA?
Do you have professional liability insurance? Will you also require general liability insurance?
Have you done your market research?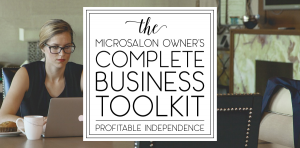 Who are your clients?
Where do they live?
What do they need?
How do you plan to fulfill that need?
Who are your competitors?
What challenges are you likely to face and how will you overcome them?
Does your area truly have a need for your business or will you have to find a more unique and marketable angle?
What do your numbers look like?
Do you have enough starting capital?
What will your annual operational costs be, including your salary?
How much revenue will you need to make to generate a profit?
How will your costs affect your service pricing?
Can your target demographic afford you, or are your projected prices going to be too high?
Where and how will you do business?
Are you going to freelance?
Will you rent a booth or studio?
Are you opening a home salon or mobile facility?
How will you generate additional revenue beyond the beauty services you offer?
Are your branding and marketing materials well-developed and consistent?
Have you designed a website?
Have you claimed your social profiles?
Do you have a high-quality portfolio of your work?
Does your logo suit your brand's tone, personality, and message?
How will you internally and externally market your business to ensure it stands out?
Have you finalized your service protocols?
What services are you going to offer?
What are the steps to each service?
How long does each service take?
What is the material cost for each service on the menu?
What are your policies?