Oh, the ignorance and arrogance of inexperienced, impulsive beauty professionals! You know who you are–sitting there with your head full of false assumptions about self-employment, so convinced that you can "do better yourself" despite having no actual experience to base that unshakable confidence on. In this post, we're going to have a serious talk; one that will introduce you to the harsh realities and burdensome responsibilities of self-employment, prepare you to do the hard work required to ensure success, and get you motivated to focus on what really matters and do what must be done to minimize your risk.
If you've read my first book (or my second book), then you know that I differentiate independent owner/operators (professionals we have traditionally referred to as "booth renters"). Independence comes in so many forms now. Booth rental is no longer the only form of independence, so distinction is necessary.
Microsalon (n.): a small, independent salon business, owned and operated entirely by a single service provider.
A microsalon owner can be a booth renter, studio operator, home salon owner, mobile professional (in the few areas where that kind of thing is legal), and an on-site freelancer.
I'm often contacted by microsalon owners who tell me that other consultants "blew them off" because they were "too small." I'm an unusual kind of business consultant for more reasons than one. Aside from my winning personality and proclivity for violent analogies and creative profanity, I am set apart from other consultants because I advise owners of large salon operations and microsalon owners. Whether they have ten locations or are operating out of a renovated janitorial closet doesn't matter to me—businesses of all sizes have problems and I am happy to deliver solutions.
Businesses of all sizes come with tremendous risk, but microsalons in particular are highly risky ventures.
You are not "too small" to fail. You may not be entering into a full-blown enterprise, but the risks you face are very real. You will be putting your money on the line and moving into unknown, lonely territory, without so much as a single employee to lean on when times get tough. Do you need to know your numbers? Hell yes. Do you need business education? You bet.
Your earning potential is extremely limited and, when compared to traditional salon ownership, your operating costs are obscenely high. Your responsibilities don't differ from those of a typical salon owner—however, you will be solely responsible for carrying them yourself.
The biggest mistake I see microsalon owners make: failure to plan.
When I say that they "fail to plan," I don't mean that they fail to pick decor or come up with cute logos and brochures. For some reason, they have plenty of time to agonize over those frivolous decisions, but dedicate almost no time to the things that actually matter.
When you wake up in the morning, whether your business is a ten location empire or a tiny corner in an open air booth rental salon, there are several questions you need to know the answers to off the top of your head.
1.) How much money do I need to make today to break even?
2.) What is my retention rate?
3.) What is my acquisition rate?
4.) What am I doing TODAY, TOMORROW, and NEXT WEEK to keep my business thriving?
5.) Where do I want to be in five years and what am I doing to get there?
Everyone needs a business plan. Period.
Salon owners with employees have multiple advantages over microsalon owners—particularly when it comes to maximizing sales and reducing costs.
Many microsalon owners won't have the need (or the ability) to make the larger orders from distributors necessary to qualify for bulk discounts, driving their product costs up.
Instead of sharing a professional liability policy with multiple professionals at a discounted rate, microsalon owners have to insure themselves at a higher cost, driving operational expenses up.
Microsalon owners don't have the benefit of having marketing materials or advertising provided to them (another critical recurring expense most microsalon owners don't plan or budget for).
Microsalon owners are solely responsible for paying the entirety of their employment taxes, 15.3% of their income for federal taxes alone), cutting their profit margins down.
Microsalon owners must cover all of their own cost-of-doing-business expenses (salon software, business phone line, towel service, promotional materials, products, tools, web design and maintenance, and so much more), pushing their service prices up.
Microsalon owners pay far more rent per square foot. Rental rates run $800-1,200 per month for a 110 square foot studio, on average. The rent on an entire 1,200 square foot commercial unit may top out at $1,300-$2,500 a month, depending on the area. Regardless of the town/city, I've found the rental rates for microsalon owners to be obscenely high in comparison to the commercial units their microsalons are located within. Renters pay around $7.30 per square foot, versus their landlord's cost of $1.10 per square foot.
Microsalon owners who rent stations or studios are literally surrounded by competitors, whereas a salon owner's lease will usually prohibit their landlord from allowing a competing business from opening within the same strip mall. (If you think competition is fierce between salon locations in the same area, try competing against ten or twelve other professionals under the same roof.)
Microsalon owners are the sole workers in their business. When Microsalon Megan is sick, injured, or otherwise absent from her business, she can't call in a staff member to step in and pick up her slack. Salon Owner Sally, on the other hand, could easily rearrange staff schedules to cover gaps.
The lack of support and inability to keep expenses in check can make microsalon ownership significantly harder than traditional salon ownership.
Simply put: your risk of failure is extremely high.
Recognize the realities and slow down. Take the time to plan, prepare, and protect yourself.
☐ Understand your obligations as a self-employed business owner.
☐ Thoughtfully prepare a comprehensive business plan.
☐ Design a brand that defines and distinguishes your small business from others.
☐ Create a polished website and social presence to draw your ideal clientele.
☐ Work your numbers to determine service prices that will cover your operational costs and support your lifestyle.
☐ Learn how to negotiate a lease that works in your favor so you NEVER end up in a legal battle with a landlord.
☐ Know which professionals you should hire and when to hire them.
☐ Assess your microsalon with a critical eye to determine if the quality of your services justify the prices you're charging–or whether it's time to raise them up.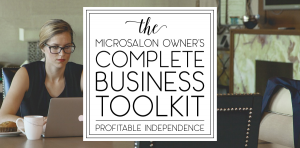 The Microsalon Owner's Toolkit contains everything you need to make the planning process as simple and painless as possible.
The Microsalon Owner's Planning Checklist
The Microsalon Owner's Pricing Spreadsheet, a 7-page spreadsheet that calculates your service prices for you!
The Microsalon Owner's Pricing Guide, a 28-page instruction manual that will walk you through the process of using the Service Pricing Spreadsheet,
The Microsalon Owner's Business Plan Design Guide, a 2-page overview detailing the anatomy of a business plan. Simply answer the questions in each section and you'll have a solid framework!
The Microsalon Owner's Lease Component Checklist, a 3-page document that simplifies lease terms to keep you from signing an incomplete (or unfair) rental agreement,
The Microsalon Assessment Tool: Be Worth What You Charge, an 11-page checklist and salon evaluation resource
The Microsalon Owner's Website Design Guide, a practical 2-page reference detailing each page your site should have and what each page should contain.
Employer Obligations for Microsalon Owners, a 9-page document that covers the basics of employment law for solo entrepreneurs. (If you plan to hire an assistant or receptionist at some point, you're going to need to read this document.)
Suggested Resources for Microsalon Owners, an 8-page reference guide where you can find every awesome thing I recommend—domain registrars, hosting companies, web designers and DIY website builders, mailing list management services, free fonts, free stock photos, salon management tools, accounting software for solo entrepreneurs, and so much more. Learn what each resource does, why they're great, and why I recommend them.
$39.99Add to cart
Your microsalon is not "too small" to benefit from this downloadable. Quite the opposite. Your stakes, risks, and expenses are very real–and more numerous than you realize.
---
If you have learned about the high price of independence the hard way, share your story in the comments. I'd love to hear from you! (Plus, you'll be doing naive professionals a big favor–many of them are in desperate need of a reality check.)