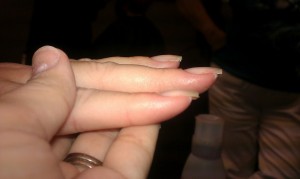 Yes, these are gel nails.
Are you considering getting gel nail enhancements or gel polish? This article will explain to you the different products on the market, what makes gel different than acrylic, the pros and cons of gel, and how the services are performed from start to finish. It will also give you an idea of what questions you should be asking your technician before you make the appointment.
First, let's discuss the different types of gel product.
1.) Gel Polish: Gel polish is basically plastic polish. It doesn't add any strength to your nails at all (but it will hold them together a bit). It is not an acceptable substitute for a nail enhancement and will not perform the same way.
2.) Gel Enhancements: These are very similar in function and strength to acrylic nails. This product can be applied over tips, sculpted, or simply overlaid on your natural nail. Sculpting gel is basically like premixed acrylic. Instead of drying when exposed to oxygen, it cures when exposed to UV rays. No, these UV rays will not cause skin cancer. (For more information on this, read my blog "Are UV Nail Lamps Going to Give Me Skin Cancer?") According to a study done by Doug Shoon (chemist and creator of Light Elegance), the amount of UV you're exposed to equates to an extra 17-26 seconds of sunlight each day of the two weeks between nail appointments. Gel is a lighter product than acrylic and is more flexible. Because of this flexibility, I've found that the gel is less likely to break. Acrylic is more rigid and snaps away easily when stressed. Although the curing procedure is very different, the prep procedure is virtually the same for both products, the only exception being that with gels we do not use a primer.
Gel Polish
Gel polish comes in many different brands and varieties. Damn near every product line now carries their own form of gel polish. These are the most commonly used products in the salon (listed in order of how great I think they are):
OPI GelColor: Cures in an LED light (not a UV light) in 30 seconds per coat. They come in all of the most popular OPI colors and the line expands every season. The colors match their standard lacquer counterparts exactly. The colors do not fade, chip, or discolor for AT LEAST 2 weeks. Many of my clients get 3 weeks of wear out of them before the growth requires them to come in and have them soaked off and replaced.
Shellac by CND: Cures in a UV light. Each coat takes 2 minutes to cure. Their color selection is fairly limited. Their product is also a resin/polish hybrid, not a true gel. This means that it is basically polish mixed with a UV activated glue. If my clients are lucky, they might get 2 weeks of wear from them. Generally it only lasts 1.5 weeks. The chemicals they formulated the product with are also questionable, so I choose not to carry it or use it.
Gelish by Harmony: This product is also a resin/polish hybrid. It cures in a UV or LED light. They offer the widest range of colors, but because of the ridiculous portholes they put on the bottles to allow clients to see the color, the polishes often cure in the bottle (because UV rays can penetrate the stupid porthole windows). I invested $300 in this line and ended up returning it six weeks after. It held up relatively well, but I wasn't overly impressed and neither were my clients.
Gel Polish Procedure & Removal
First, the nails are prepped. The cuticles are pushed with a hand sanitizing product. This keeps the nails from absorbing oils, which could cause the product to lift. The excess cuticle is trimmed and the nails are shaped up. The nails are then cleansed with alcohol and a pH balancing product is applied to ensure maximum adhesion.
Next, base gel is applied. Base gel is meant to act as a basecoat. It helps the product adhere to your nails and keeps the pigment in the gel from staining them. This base coat cures under the UV or LED lamp for the amount of time set forth by the manufacturer.
Two coats of color are applied. Each coat will cure under the lamp as well.
A top coat is applied. A nice topcoat keeps the color looking shiny and fresh. This also cures under the lamp.
The tacky dispersion layer is wiped off with alcohol. Most gel polishes leave behind a sticky layer after curing. The technician will simply wipe this off.
Cuticle oil is applied.
At this time, your polish is completely cured. You can reach into your purse, dig into your pockets, bash them, smash them…do your worst. You won't cause that polish to smudge or chip.
After two weeks, you will need to have the gel polish professionally removed. The technician will gently buff the topcoat off (or not, some don't) and wrap your fingers with removal pads. The polish generally dissolves completely within 10-15 minutes. If you chose to have it reapplied, you certainly can do so at this same appointment. I've found that GelColor doesn't cause any damage to the nail plate (because it is a true gel) but the resin/polish hybrids cause brittleness. Eventually, my clients nails were simply snapping off. So, if you're getting Shellac or Gelish, you may want to take a break in between gel manicures.
Gel Nail Enhancement Products
The three below are the only ones that I've used that are worth talking about. As a client, I doubt you'd notice any difference in performance.
Axxium by OPI: It stands up well over time and is relatively easy to apply. Stays crystal clear as well. I'd prefer it if it were a bit thicker, but I'm pretty sure most technicians that prefer the viscosity of acrylic would agree.
Synergy by YoungNails: Also a very good product.
Brisa by CND: I wasn't incredibly impressed with it because the white I used did yellow over a two week period, but it does have a better texture to it than the other two, in my opinion.
Gel Nail Enhancement Procedure & Removal
First, the nails are prepped.
The cuticles are pushed using hand sanitizer instead of a cuticle cream to prevent excess oil being deposited on the nail plate. The excess cuticle is trimmed and the nails are shaped up. The nail bed is then lightly etched to give the product a better surface to adhere to. The nails are then dried out with acetone.
If you are getting your nails extended, this is when the tips or forms would be applied.
A base gel is applied to four fingers on one hand and the thumb on the other. The reason this is done is that many lamps don't yet have the function to accommodate the five fingers on one hand simultaneously like the LED lamps do. (I'm sure this will change in the relatively near future.) The base gel will cure for 30 seconds in the UV lamp. While those fingers are curing, the gel is being applied to the other hand's fingers. This method continues throughout the rest of the service.
This means that you will not be able to do anything for the entire duration of the service.
Cell phones must be silenced or turned off. Your beverage must be set aside. It is imperative that you keep from touching the nails while they're being constructed unless you want to be wearing embedded purse or pocket lint for the next several months.
The second layer of gel is a sculpting gel.
It is a thicker viscosity and will be applied in the same manner as the gel base. This coat takes 2 minutes to cure completely, but many techs (like myself) will "flash cure" the layer in 30 seconds before applying the final gel layer to save time.
The final layer of gel is the overlay gel.
It is a very thick viscosity and is meant to fill in any gaps or dips in the product. This coat takes 2 minutes to cure completely. If your tech flash cured the sculpting gel layer, this 2 minute cure time will cure both gels simultaneously.
Once the final layer has cured, the nails are wiped with an alcohol pad to remove the tacky dispersion layer
. The nails are then filed and finished. Your choice of polish or gel lacquer can be applied at that point.
Sculpting gel can cause a "flash burn" while curing. This is a burning sensation that comes on quickly, caused by a chemical reaction. It can be very uncomfortable. A way to avoid this flash burn is to pull your hands out of the light every 5 seconds for the first 20 seconds of cure time. I've experienced this issue with every line of sculpting gel that I've used (Axxium, Brisa, and Harmony). There's really no other way to get around it…yet.
As for removal, sculpting gel is nonporous. This means that nothing will penetrate it…not even acetone. It will not soak off. This is the main drawback to using this product and this is why I prefer to use acrylic. Until they come up with a way to remove this product safely without having to drill and file it down, I'm going to continue to push acrylic services in favor of the gels. The good thing is that the gel is very soft and very easy to file down.During Your Gel Service, Please remember…
No touching. Anything. Not even "a quick second" to return a text. Make everyone aware that you are unavailable during your nail appointments. The curing process hardens the gel completely, but leaves a tacky dispersion layer. Everything sticks to this layer, including the next coat of gel. If you get lint in the dispersion layer (from reaching in your purse or pocket) your tech will have to remove the dispersion layer and put another coat of gel on, which will extend your service time and make your nail technician super disappointed in you. Busy techs (like me) might even charge you a fee for having to fix the issue. Please be conscious of this fact.
The bulb is hot. Don't touch it.
The gel moves and slides if you hold your hand in a certain position too long. It is not like acrylic. Gravity is definitely not your friend in this instance. Please keep your hands flat in-between curing.
Gel nails are strong, but they aren't tools. Like any nail enhancement, they must be treated with care.